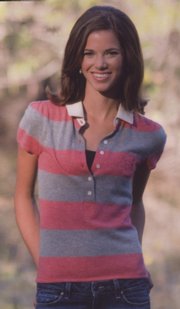 Brooke Sutherland remembers entering Bishop Seabury Academy in seventh grade as "so shy and so quiet."
She credits jumping into student government and taking theater classes for helping her become student senate president her senior year.
"The personable environment forces you to be more independent," said Sutherland, who is at the top of her class and plans to attend Washington and Lee University in Virginia in the fall to study journalism.
She plans to try to break into the world of sports journalism with the goal of one day working as an anchor or reporter for ESPN, covering college basketball, college football or maybe tennis.
Sutherland also credits her independent school's curriculum and teachers with readying her for college.
"I think at Seabury, they do a really good job of preparing you for the college environment and the kind of things a college classroom will demand of you," Sutherland said.
Other than student senate, her list of activities and achievements at Seabury is long, including being a standout tennis player.
She played on the varsity boys tennis team until the school formed a girls team.
As a senior leader at the Lawrence independent school, she also has advice for the younger students.
"Don't forget to do your work. Put the time in, and you will get a payoff," she said.
Honors, activities: National Merit semifinalist (2007); AP Scholar (2007); Kansas Honor Scholar (2007); Seabury Scholars (2006); National Latin Exam summa cum laude (2005-07); Smith College Book Award (2007); National Honor Society, vice president (2006-07); honor roll (2005-07); prefect (2007-08); Student Senate (2005-08), president (2007-08), vice president (2006-07), student representative (2005-07); dance chair and social coordinator, (2005-07); tennis, lettered (2005-07) coach's award, (2005-06), captain (spring 2007, fall 2007), first place state 1A tennis regional (2007), second place state 1A tennis sub-state tournament (2007), eighth place state 1A tennis tournament (2007); cross country, lettered (2005-06), coach's award, (2005), most valuable runner (2006); drill team, lettered (2006-08); forensics, lettered (2005); Champions by Choice Sportsmanship program (2006-08)
College: Washington and Lee University
Career plans: Sports broadcaster
Major: Journalism
Copyright 2018 The Lawrence Journal-World. All rights reserved. This material may not be published, broadcast, rewritten or redistributed. We strive to uphold our values for every story published.