Photo Gallery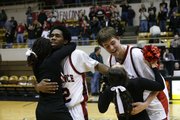 LHS boys vs. Wichita Heights
Going to Emporia?
The 6A championship games will be held in Emporia State University's White Auditorium.
To get there:
¢ Take I-335 South (Kansas Turnpike) from Topeka
¢ Take exit 127 (Emporia/US-50), pay $3 toll
¢ Veer right to continue on US-50/Sixth Ave.
¢ The arena is at 111 E. Sixth Ave. in Emporia
¢ Travel time: 1 hour, 15 minutes
Emporia — It's almost too good to be true at this point.
With a Class 6A state championship berth hanging in the balance and seconds left in a tie game, Lawrence High's boys basketball team knew its season rested on one player's shoulders.
And yet again, point guard Dorian Green responded on the grandest stage in the biggest game.
The Lions' junior sensation was fouled on a three-point attempt with 3.1 seconds left and coolly buried all three free throws, sending LHS past No. 4 Wichita Heights, 61-58, in another Lions squeaker.
"I didn't have to say a word," LHS coach Chris Davis said of the final sequence of events. "It was 'Dorian has the ball in his hands. Everybody run away.' Everybody believes in him so much that it makes it pretty easy."
Green's late-game heroics gave him 17 points on the night and earned him a spot in Lawrence basketball folklore for some time to come.
You can call it an upset, although hardly anything the Lions do these days seems to surprise. Friday was the fourth straight playoff contest in which LHS was a lower seed, but Lawrence showed once more that it belonged with best in the state.
Now, the eighth-seeded Lions - winners of six consecutive games - really are headed to the title game.
"It seems like everything is going by so fast," Green said. "This is what every team in the state of Kansas wants to play for, but we got here."
Lawrence rode an incredible start to a 17-13 first-quarter lead over the Falcons. Guard Lance Kilburn buried two three-pointers in a row to begin the game, and LHS made its first five shots. The Lions also got two thunderous dunks in the quarter, one coming from 6-foot-6 forward Baba Diallo, and the other minutes later from 6-7 center John Schneider.
Lawrence's lead ballooned to as much as 31-19 when James Easter tipped in a Kilburn miss with 4:14 left in the second quarter.
Easter was a force off the bench, scoring 11 points and grabbing seven rebounds.
"I'm speechless," Easter said. "This is one of the biggest games I'm probably ever going to play in my life, and I'm just happy I got here."
Wichita Heights never relented despite being down double digits. The Falcons hounded the Lions into 19 turnovers and took their first lead at 47-45 with 39 seconds left in the third quarter on Randall Rogers' tip-in.
In the fourth quarter, neither team led by more than three points at any time. With 1:31 left, two Rogers free throws gave Heights its final lead, 55-54. Schneider scored the next four points to put LHS back in front, but Terry Webb's three-pointer tied the game at 58 with 41 seconds left, setting the scene for Green's clutch play in the waning seconds.
"We've been talking about it now for a couple weeks," Davis said of his team's amazing run. "It's possible to put our name up on a banner in the gym, and what an honor that would be to us and our team. The kids are really looking forward to having that opportunity."
Schneider finished with 15 points and nine rebounds. Kilburn added 10 points.
At 13-11, Lawrence is now guaranteed of finishing the season with a winning record after beginning 6-10.
"We love playing as the underdog," Schneider said. "It gives us a great story."
And this story - this fairy tale - has one more chapter that needs writing. LHS will vie for the state title against No. 2 Wichita Southeast (22-2) at 6:15 p.m. today.
Copyright 2018 The Lawrence Journal-World. All rights reserved. This material may not be published, broadcast, rewritten or redistributed. We strive to uphold our values for every story published.