Photo Gallery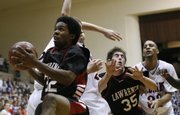 LHS boys vs. Manhattan
Emporia — Darren Green held out his cell phone so I could read the words.
Earlier in the day, Green had sent a text message to his son Dorian, and he was gracious enough to allow me to read it as he stood outside the Lawrence High locker room in White Auditorium.
"Play hard," the message read. "Leave no doubt who the best guard is."
Green was referring to his son's anticipated match-up with Manhattan High guard Sam Kenney in Thursday night's first-round game of the Class 6A state boys basketball tournament.
After the Lions' stunning 65-56 triumph over the No. 1 seed, Dorian Green did indeed leave no doubt about who the best guard was.
Not that Kenney wasn't good. Manhattan's senior standout drained five three-point goals and finished with a team-high 23 points. Green was simply better.
In fact, I'll go on record as saying no Lawrence High guard ever has had a better outing in a state tournament game than the 6-foot-1 junior.
And arguably Green's dazzling performance may have been the best in a state tournament by a Lion, regardless of position. That includes Danny Manning, who played in the 1984 state meet. And it includes Chris Piper's 27-point outburst in the Lions' 59-35 romp over Shawnee Mission South in the 1983 state title game.
It wasn't just that Green scored a career-high 32 points. He also posted team highs in rebounds (6), assists (4) and steals (3) in his route-going, point-a-minute extravaganza.
Outside the glum Manhattan High locker room, Indians' coach Tom Brooks issued the understatement of the night when asked about Green.
"He obviously came to play," Brooks said.
No kidding.
After greeting a host of well-wishers, receiving a hug from his dad and then being surrounded by the media, Dorian Green reflected on the text message.
"I got it on the bus ride coming down," he said, confirming that playing against Kenney had a definite effect on his adrenal gland.
"He's a good point guard," Dorian said, "and competition brings out the best in us."
Dorian was dynamite in the second quarter, nailing all five of his shot attempts, including a trio of threes, to tally 18 points before the break. In the second half, Manhattan coach Brooks tried a box-and-one on him at times, but Dorian still scored 14 points.
"He showed why I've heard he's been one of the best point guards in the state over the last month," Brooks said.
Dad Darren, who played football at Lawrence High in the late 1970s and was a return specialist for Kansas University in the early '80s, never pushed his son into football.
"He played in the sixth and seventh grades," said the elder Green, now a supervisor for a local utility, "but he loves basketball, and I just love watching him compete."
The elder Green isn't the only one. Dorian Green was a joy to watch for the throng of Lawrence High fans who crammed into Emporia's band-box arena.
"I think he's matured a lot in his game," Darren Green said about his boy, "and he understands his ability."
Now all Dorian Green has to do is do it all over again in tonight's semifinal against Wichita Heights.
Copyright 2018 The Lawrence Journal-World. All rights reserved. This material may not be published, broadcast, rewritten or redistributed. We strive to uphold our values for every story published.