Photo Gallery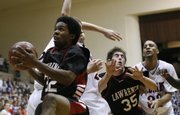 LHS boys vs. Manhattan
Emporia — Cinderella's glass slipper came tantalizingly close to cracking against No. 1 seed Manhattan High on Thursday night in the first round of the Class 6A boys basketball tournament.
Lawrence High's 6-foot-7 senior John Schneider sat on the bench with five fouls. The Lions' nine-point lead had evaporated completely with just over a minute left. Manhattan's student section was growing more boisterous by the second.
But for the third consecutive playoff game, the eighth-seeded Lions found the reserves of character to hold off a higher-ranked team. This time, their victim was the top-seeded Indians, who fell prey, 65-56, to the Lions, thanks in large part to Lawrence's outstanding defense and point guard Dorian Green's memorable offensive performance.
With the victory, Lawrence (12-11) moved above .500 for the first time since being 4-3 on Jan. 1.
The slipper still fits.
"It's just freaking awesome," LHS guard Lance Kilburn said. "I love this team so much. They never cease to amaze me."
Green was the only player on the floor for either side to play every second, and for good reason, as he lit up the White Auditorium scoreboard.
The junior buried four three-pointers in the first half, including one while falling out of bounds that gave Lawrence a 19-18 lead. All night, he was called on to produce offensively, and he responded with a career-high 32 points on 11-of-19 shooting.
"Dorian is such a cool customer, he's able to handle that situation," Lions coach Chris Davis said. "He's such a complete player because, when he gets double-teamed, he gets the ball to the open guy. What are you gonna do? I just keep putting the ball in his hands."
For Manhattan, 6-9 center Jackie Carmichael entered the game as a McDonald's All-American nominee, but the Lions wouldn't even let him sniff the ketchup in the restaurant's waiting line Thursday night.
Lawrence's 6-6 forward Baba Diallo was assigned the task of face-guarding Carmichael, while Schneider played behind him.
Carmichael didn't even touch the ball until 41â2 minutes into the game. His first shot attempt without being fouled didn't come until 5:35 of the second quarter.
"We got in his head a little bit and slowed him down to the point where we could handle him," Schneider said. "He's the biggest guy I've probably ever played against. He's a good player."
LHS controlled the contest for nearly all of the first three quarters, building its biggest lead at 38-29 in the third on a Kilburn three-pointer. But Manhattan (20-3) stormed back behind the play of guards Sam Kenney and Mac Ingmire. Ingmire's three with 6:08 left gave the Indians their first lead since early in the second quarter.
Minutes later, Schneider fouled out attempting to guard Carmichael, and it appeared that Lawrence's remarkable run was nearing its conclusion.
"I'm thinking, 'Aww jeez, I picked up a stupid foul and my teammates need me,'" Schneider said.
When Schneider went to the pine, though, Davis told him to pick his head up.
"I told John, 'We're gonna be OK. We're going to stand up and come through. This ain't your last game.'"
Green, Kilburn and Schneider's sub, James Easter, made sure of that. The 6-2 Easter held his own against Carmichael, even scoring on a jumper to briefly give LHS the lead.
Carmichael's only bucket of the game put Manhattan back in front, 56-55, with 1:22 remaining.
But Kilburn nailed a three to move LHS ahead for good 17 seconds later, and the Indians failed to get the ball back to Carmichael. Lawrence scored the final 10 points of the game, with six coming from Green.
Kenney led the Indians with 23 points. Carmichael was held to 11 points on 1-of-5 shooting. Kilburn scored 16 for LHS.
Lawrence shared a moment with its student section afterward, as Davis held both fists in the air in triumph. That was about all the celebrating LHS could afford, though.
The Lions will play No. 4 Wichita Heights (17-6) - which beat defending state champion Blue Valley West in overtime - at 8:15 tonight in the semifinals.
Copyright 2018 The Lawrence Journal-World. All rights reserved. This material may not be published, broadcast, rewritten or redistributed. We strive to uphold our values for every story published.