Photo Gallery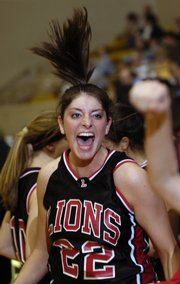 LHS girls vs. Blue Valley
Emporia — Every team in sports has a panic button that once hit makes a bad situation so much worse.
For the Lawrence High girls basketball team that played a Class 6A state quarterfinal game Wednesday afternoon inside charming old White Auditorium, circumstances repeatedly baited the Lions to crumble.
A year removed from playing for South Junior High, Haley Parker guarded the panic button, didn't let her teammates near it. Her facial expression suggested she just as easily could have been guarding Buckingham Palace.
Down 13 points early or protecting the lead late, her focus remained on task. After all, what does the last possession have to do with the next? What does the scoreboard reveal about points that will be scored the remainder of the game? That's how Parker plays. Her calm, subtly tough approach led the Lions to a 59-48 victory against a Blue Valley team that finished with a 21-2 record.
Think about all that was stacked against the underdog Lions, including a 20-7 second-quarter deficit. A loud, spirited pack of students from Blue Valley tried its best to rattle an LHS team that played four sophomores, two juniors and two seniors.
Those classifications are misleading. Always subtract a year when calculating experience levels of players from Lawrence's two public high schools. Unlike schools in most of the rest of the state, the region, the nation, here ninth-graders must play for their junior high teams until those seasons end. The rule cheats the most talented players.
Think of it this way: How much better is Cole Aldrich because he plays against Sasha Kaun, Darnell Jackson and Darrell Arthur daily in practice, and against older players in games, than he would be if restricted to competing with and against all freshmen?
Not that Parker and fellow sophomore Cassie Potter (four of five three-pointers, six assists) played like sophomores Wednesday. More like seniors.
It's tempting to avoid sharing Parker's point total because it really wasn't about how many points she scored as it was about the way she controlled the pace of the game - fast when the Lions were behind, slower when they moved ahead, jabbing and counter-punching with equal doses of aggression. It was about the way she threw a security blanket over the team. They knew if the wheels wobbled, once the ball was thrown back to her, she would fasten the lug nuts.
For the record, Parker shared team scoring honors (17 points, one turnover in 28 minutes) with senior Danielle Bird. Eight of Parker's points came in a fourth quarter in which the Lions outscored the Tigers, 24-10.
Once the Lions took the lead, they spread the floor, and Parker killed some clock, then proved too quick with the ball for anyone to stay in front of her. Twice she drove the left side of the lane and sank left-handed layups, one of the and-one variety.
"Other coaches are always saying, 'Make her go left! Make her go left!' I'm not sure why," Parker said, flashing such a soft smile for such a tough player. "I guess because I'm right-handed."
More importantly, she is right-minded for the job of leading a basketball team.
Copyright 2018 The Lawrence Journal-World. All rights reserved. This material may not be published, broadcast, rewritten or redistributed. We strive to uphold our values for every story published.