Photo Gallery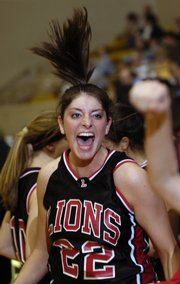 LHS girls vs. Blue Valley
Emporia — Wednesday afternoon was no time for Lawrence High's girls basketball team to think about the consequences of another poor start against second-seeded Blue Valley High.
Not here, anyway. Not during the second quarter of the Class 6A state tournament with a berth in the semifinals on the line.
Think, and the game could be out of hand minutes later - much like it was the first time the teams met six weeks ago.
"Just keep playing," guard Haley Parker told her team when the Lions' deficit reached 13 points.
So, LHS kept playing. And in the process, it turned a potential catastrophe into a 59-48 comeback victory at White Auditorium.
Lawrence advances to the semifinals at 3 p.m. Friday, where it will face a familiar foe - fellow Sunflower League team and No. 3 seed Olathe South.
Wednesday's outcome was sweet revenge for the seventh-seeded Lions (19-4), who fell so far behind the Tigers (21-2) in the teams' first matchup, not even a furious rally could save them.
"We didn't want a repeat of last time, so we just came out in the second half and did everything we could," senior Danielle Bird said. "We had nothing to lose. We were already behind, so we just had to give it our all."
Lawrence trailed 20-7 on Brianna Eldridge's layup at 6:59 of the second quarter, but Lions coach Kristin Mallory said she could tell her team was not going to fold.
"They just had a different look in their eyes," Mallory said. "They were frustrated, but we got them to calm down and pull together."
A couple of sophomores coolly stepping in to revive the Lions didn't hurt, either.
Cassie Potter buried back-to-back three-pointers, and Parker snuck into the lane for consecutive layups. The two scored 11 straight points for LHS as part of a 15-3 run that trimmed the deficit to one point.
"I think Cassie and Haley were just outstanding. And maybe they just don't know any better," Mallory said of the duo's performance on such a large stage.
The Lions trailed 32-28 at the half when Mallory decided to use a triangle-and-two defense to stop Eldridge and guard Taylor Hanson.
"It was our best defense for them, but we didn't want to show it before halftime," Mallory said. "We knew we were right there and could pull that special defense out of our back pocket in the second half, and we knew we'd be all right."
LHS was more than all right.
The triangle-and-two held Hanson - who scored 28 points against the Lions six weeks ago - to 1-of-7 shooting and seven points. Eldridge managed just six points after reaching double figures in the first half.
For Lawrence, Danielle Bird took over the third quarter after deferring to the underclassmen in the first half. Bird hit four jumpers, scoring nine of her team's 13 points. Her final jump shot pulled the Lions to 38-35.
"I just felt like I needed to step up," Bird said. "I really did not want to lose, and our team didn't want to lose."
Despite the Lions' steady play in the middle quarters, they still trailed with six minutes remaining. But forward Tania Jackson's turnaround jumper tied the game at 42, and Potter and Parker responded yet again down the stretch. The two were responsible for perhaps the two biggest baskets of the LHS season.
Potter's three with 4:50 left gave the Lions their first lead since 2-0, and Parker followed that with an and-one layup to push the margin to 48-42. Blue Valley never got closer than five points. Instead, panic-mode set in, as the Tigers fired up and missed contested three-pointers. LHS then milked the clock with its guards until it struck midnight on the Tigers' season.
The victory was the first at the state tournament for the current Lions' players and their seventh-year coach. Lawrence now is one step closer to winning its first state championship since 1992.
"The girls were jumping all over the place," Mallory said of her players' reaction afterward. "The kids that never saw the floor were as excited as the kids on the floor."
Said Parker: "I wanted to cry. I got goosebumps, and it was amazing."
Both Bird and Parker led LHS with 17 points apiece. Potter scored 12 points - all on three-pointers - and added six assists. Jackson tallied six points and a team-high eight rebounds.
Eldridge paced Blue Valley with 16 points and nine rebounds. Liz Stinson scored 11.
Potter said she wasn't concerned about seedings at this point, particularly because the Lions defeated the Falcons once before.
"We deserve to be here," Potter said. "It's just how you play and how much heart you play with."
Copyright 2018 The Lawrence Journal-World. All rights reserved. This material may not be published, broadcast, rewritten or redistributed. We strive to uphold our values for every story published.