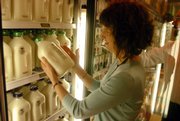 On the street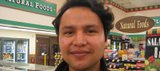 A consumer should be well-informed. They should label anything it contains.
Topeka — Got milk?
Got big fight.
A bruising agricultural battle has formed in the Legislature pitting a giant corporation and some dairies against other dairies, grocers and consumers.
And the war is over the information on labels on containers of milk and other food products.
For example, at the Community Mercantile Co-op in Lawrence - the Merc, 901 Iowa - sit row upon row of bottles of milk from Iwig Dairy of Tecumseh.
The label on the bottle states, in part: "We do not use injectable hormones (BGH) and our product is completely free of antibiotics."
That is important information for customers, says Nancy O'Connor, the Merc's education director.
O'Connor said people "want to know how their food was grown or produced and who grew or produced it.
"This type of labeling is their right to know."
But the Kansas Dairy Association and several other dairies are pushing for Senate Bill 595, which could do away with such labeling, because they say the information is misleading.
Speaking for the bill, Bob Seiler, a dairy owner in Valley Center, said much of the controversy is over the use of growth hormones used to make cows produce more milk. These include recombinant bovine somatropin (rbST) and recombinant bovine growth hormone (rbGH).
Milk from cows treated with these hormones is the same as those not treated "and no test can detect it," Seiler said. "But companies continue to exploit the consumers' feelings and try to label it as being better," he said.
Another group that testified for the legislation was the American Farmers for the Advancement and Conservation of Technology, which is backed by Monsanto Co., which markets rbST and has pushed for similar legislation in other states.
Dairy operators said labeling is driving Wal-Mart and Kroger stores to demand rbST-free milk, and by not being able to use the hormones, that reduces the dairies' profits.
But several family farmers producing rbST-free milk say the milk is of better quality and that restricting labeling would keep consumers in the dark. They said the free market is working by making consumer demands paramount.
Also, they note, the federal Food and Drug Administration has decided that producers who do not use rbST may inform customers as long as their statements are sworn to and they add the following language: "This milk is from cows not treated with rbST. The Food and Drug Administration has determined there is no significant difference between milk from rbST treated cows and non-rbST treated cows."
The bill is before the Senate Agriculture Committee, which is chaired by state Sen. Mark Taddiken, R-Clifton.
Taddiken said lawmakers may work on the bill more this session, or research it further during the interim period before the next session.
After two hours of hearings on the bill, state Sen. Roger Pine, R-Lawrence, and vice chairman of the committee, said he needed to study it further, too.
"I'm certainly not opposed to the public having the right to know," Pine said. "That's just part of the freedom we have in this country, and I don't want to lose that regardless of what side you are on this issue."
Jeanie Wells, general manager of the Merc, said prohibiting labels that provide information about how the food was made and how the animals were treated would be devastating to consumers.
"As a grocery store, we are at the ground level with customers every day, and we know what they want," she said.
Organic and hormone-free food production "is the fastest growing segment of growth in the country," in food sales, Wells said. "I just don't think it's legal to take away that information from the customers."
Copyright 2018 The Lawrence Journal-World. All rights reserved. This material may not be published, broadcast, rewritten or redistributed. We strive to uphold our values for every story published.