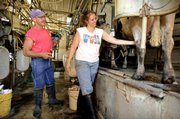 Wichita — There was a time - long before the Internet, cell phones and $3-per-gallon gasoline - when milk, not water, came in bottles. And glass bottles at that.
As outrageous as the idea may sound to younger people, many older consumers recall glass bottles fondly as providing colder, creamier, fresher-tasting milk.
Now, glass milk bottles are making a comeback in Wichita and several other Kansas markets, thanks to a Topeka-area dairyman who hopes the old-fashioned containers catch on once again.
So far, Tim Iwig admits, Wichita has been a tough sell.
"We did promotions in a couple of stores in Wichita," said Iwig, owner of Iwig Dairy in Tecumseh. "A lot of people wouldn't even sample it."
Still, six larger Dillons stores in Wichita and one in Andover began carrying Iwig's milk a couple of months ago.
Dillons spokeswoman Sheila Lowrie wouldn't provide sales figures but said shoppers "are always interested in trying new things."
"The glass bottle really provides a nostalgic twist," Lowrie said.
Plastic and paper milk cartons started to replace glass in most markets decades ago. Iwig said his family's dairy stopped using glass in the 1950s, mainly because people got used to "throwing everything away" rather than returning bottles for a deposit.
Iwig, 47, revived the family business with a dairy herd of his own after graduating from college in 1983, but mainly sold his milk in bulk to other dairies.
Several years ago, he began to look for ways to get more money for his milk and hit on two ideas - producing it without antibiotics or growth hormones to appeal to the growing market for natural foods, and using glass bottles.
Iwig said plastic containers tend to "leach into the milk," although he admits he's seen no scientific studies to back this up. Iwig might be expected to favor glass over plastic or paper containers, but a much larger milk producer whose dairy uses all three types of containers agrees that glass is superior.
"It tastes better (out of glass), that's what a lot of people claim," said Jason Ohlau, who owns the Chester (Ill.) Dairy, which supplies milk throughout most of southern Illinois.
"There's no doubt that it gets colder in the glass than it does in the plastic," he said. "In my opinion, it gives you a purer taste because you don't have anything interfering with it."
The Chester Dairy now sells more milk in plastic and paper containers. But it never stopped using glass, which has a "loyal following of customers," Ohlau said.
In addition to regular milk, Iwig produces chocolate, strawberry and root beer-flavored milk. Iwig said supermarket sales in Topeka and Lawrence have been strong, and a store located at his dairy sells as much as $1,100 in milk on Saturdays.
Copyright 2017 The Lawrence Journal-World. All rights reserved. This material may not be published, broadcast, rewritten or redistributed. We strive to uphold our values for every story published.