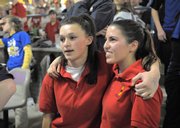 Wichita — Lawrence High's girls bowling squad never had cracked the top three at the Class 6A state championship to receive a team trophy.
But one courageous senior and a determined sophomore combined with two of the state's top bowlers to claim the third-place trophy Saturday at Thunderbird Bowl.
"We didn't get first, but it means a lot to all of us," senior Tiffany Demaline said. "This was basically the biggest thing for me, because doing it as a team is the biggest accomplishment. Anybody can do it individually, but when you have a group of girls that stick together, that's what means the most."
The team's ability to stick together was tested on the big stage as senior Becca Stack battled through illness and sophomore Alexah Gudenkauf struggled at the start.
Stack gutted it out and put up one of her best performances of the season with a 504 series.
"I just wasn't feeling good Friday night," Stack said. "I did good at practice, but I just bowled one game. So I really just wanted to concentrate and do it for the team. I knew it was my last time bowling as a Lawrence Lion, so I just wanted to come out on top."
After LHS coach Brandi Perry had a quick talk with Gudenkauf, the sophomore responded by posting a 500 series despite her 134 in Game 1.
"She just gets really nervous, so I told her to relax, have fun and just forget about those other frames and just start over," Perry said. "And she came out of it, and the second and third game she really came back."
Demaline and senior Jessica Wyatt performed on the same level all season, and it was even more apparent at state. Demaline finished one pin better than Wyatt to claim ninth place with a 596 series, while Wyatt earned 10th.
"I was happy for Tiffany, but I wish we both could have had 600s, but to be four and five pins away is not bad," said Wyatt, who finished her final game at LHS with a turkey - three straight strikes.
Senior Malory Hughes-Pfeifer (441 series) and sophomore Danielle Husted (433) also competed on the six-bowler squad.
While the LHS girls got some gutsy performances at state, the Free State boys squad couldn't seem to get the pins to fall and finished in seventh place overall.
"You're not going to win any championship round if you're not sparing," FSHS coach Anita Carlson said. "That's essential to this game, and anybody who has played this game knows that spares are important. You can have a ton of strikes, but if you're not sparing to back those up, you're going to lose out."
Junior Aaron Bernhardt finished just outside of the top 20. His 642 landed him in 22nd place and a mere five pins away from earning a medal.
"It's pretty frustrating knowing that you could pick up one spare and be there," Bernhardt said. "But I bowled my best today. So I get what I get, I guess."
The frustration will be double for seniors Tyler Kring, Alex Hardman and Josh Herschell after coming up well short of what they expected after last year's second-place finish at state.
Kring (626) and Hardman (587) combined with Bernhardt and sophomore Rob Wagner (617) as the Firebirds' top four. Evan Taylor bowled a 552, while Herschell finished with a 490.
Ben Wyatt, Lawrence's lone boys representative, combined for a 574 series and a 44th-place finish.
Copyright 2018 The Lawrence Journal-World. All rights reserved. This material may not be published, broadcast, rewritten or redistributed. We strive to uphold our values for every story published.