Photo Gallery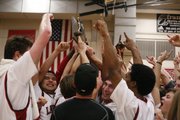 LHS boys vs. Olathe North
Who needs records, rankings and seedings, anyway?
Certainly not this year's Lawrence High boys basketball team.
The seventh-seeded Lions defied the odds yet again Saturday night, busting the Class 6A sub-state bracket for a second straight game.
This time, they came from behind to oust No. 6 Olathe North, holding on in the final seconds, 50-48, in the LHS gym.
Now, the Lions are going somewhere nobody would have dared to contemplate three weeks ago: the state tournament.
"It's very special," LHS coach Chris Davis said of making the trek to Emporia. "I told the boys we had 32 minutes to play and a lifetime to cherish it. For all these guys, this will be their first trip there. I'm very excited for them."
The game wasn't decided until North's Jordyn Chamberlin stepped to the free-throw line with four seconds remaining and a chance to tie. Chamberlin missed both attempts. In the scramble for the loose ball, the Eagles never got a shot off, setting off a wild celebration between LHS players and an exuberant student section.
In the opening minutes, however, it seemed the magnitude of the moment had gotten to the Lions. Olathe North easily gapped Lawrence's 3-2 zone for layups to establish a 15-4 lead. On the other end, LHS fired three ill-advised shots from long range early in its possessions.
But something happened on the way to an Eagles blowout. Something that wasn't possible for the Lions even seven games ago.
LHS clamped down on defense and relaxed on offense despite being down by double digits. And it began looking like the team that has refused to let its magical run end at sub-state.
"We're a totally different team than we were four weeks ago," Lions point guard Dorian Green said. "We've really matured as a team. When we've got 15 guys at practice working together for one common goal, it really pays off."
Green and center John Schneider, who have shouldered much of the offensive load during their team's turnaround from 6-10 to 11-11, didn't do it alone, either.
Lance Kilburn, Bobby Davis and Preston Scheibler all hit three-pointers to help LHS get back in the game.
"We knew that we had a bunch of role players that needed to figure out what they were going to do," said LHS coach Chris Davis, who used several different lineups this season. "That made a big difference."
The second half featured six lead changes with neither team leading by more than four points. With the game tied at 42, Green stepped in with a steal and layup to put LHS back on top for good, and Kilburn's three pushed the margin to 47-43. From there, Lawrence got a pair of free throws from Jared Vinoverski and one more from Schneider before holding off the Eagles, as Chamberlin missed the game's final two free throws.
Schneider scored 13 points, Kilburn added 11 and Green had 10. Scheibler scored seven points.
Lions players all held the sub-state trophy high in the air amid the swarm of fans afterward, none of them wanting to leave the court.
This was their night to boast. Lawrence likely will be the eighth and final seed at the state tournament, given virtually no chance at advancing out of round one.
Not that the seedings have mattered much to the Lions thus far.
Copyright 2018 The Lawrence Journal-World. All rights reserved. This material may not be published, broadcast, rewritten or redistributed. We strive to uphold our values for every story published.