Photo Gallery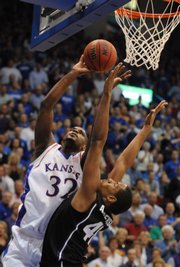 KU vs. KSU
The blue-clad hecklers tried to crack his shell after Kansas State's 88-74 loss to Kansas on Saturday. But Michael Beasley was stone-faced walking by a line of them on his way to the locker room.
Only one fan got Beasley's attention - a little girl wearing a K-State jersey and asking for an autograph. Beasley obliged before being rushed inside.
Still in a giving mood, even if he wasn't in a good mood.
"As a whole, we're just not there," Beasley vented after K-State's fourth consecutive loss. "Energy-wise, intensity-wise. We got outrebounded the whole game. We just had no will to win."
K-State's superstar freshman couldn't have been speaking of himself. He was as sensational as always, scoring 39 points and grabbing 11 rebounds despite early foul trouble handcuffing his first-half play.
Beasley made the Jayhawks use every bit of their interior depth, and 14 fouls by KU's four post players - coupled with Beasley's 16 free-throw attempts - showed that he was a load to deal with.
That said, the Jayhawks' lead never was in doubt after halftime, even after Beasley started his impressive scoring surge.
"They had us on our heels," KSU coach Frank Martin said. "When they came to our building, we had them on their heels. When you get a team on its heels, that team is always trying to recover rather than fight back."
The Wildcats (18-10 overall, 8-6 Big 12) were forced to think on the run after Beasley picked up two fouls in the first 2:05 on Saturday. Soon after, second-best player Bill Walker picked up two fouls himself, and both went to the bench.
K-State played some zone defense, and the two standouts occasionally subbed out for defense and in for offense to keep the risk low the rest of the half. Beasley, a top NBA prospect, didn't foul again. Walker picked up No. 3 in the first half, but played foul-free the second.
Still, Walker sat about half of the second half and finished with just nine points and two rebounds in 19 minutes. He came into the game averaging 16.2 points and 6.7 rebounds per contest.
"There ain't nothing going on with him," Beasley said, asked about Walker's struggles. "He ain't playing. He sat most of the game."
Munching on chips while answering questions, Beasley clearly was irritated with the loss, saying the Wildcats "laid down" and allowed an energized KU team to run away with it.
The question is, what does the four-game slide do for K-State's NCAA Tournament hopes? At 18-10 overall, the Wildcats don't have a sparkling record even if big victories over Kansas and Texas A&M; in January help the resume.
Still, Martin scoffed when asked if KSU is fighting for its postseason life Tuesday when it plays Colorado.
"Why should we? We're tied for third place," Martin said. "We have two games to go. If we win those two games, you mean to tell me the Big 12 is only going to put three teams in the tournament?
"Our resume," he added, "is pretty strong."
Copyright 2018 The Lawrence Journal-World. All rights reserved. This material may not be published, broadcast, rewritten or redistributed. We strive to uphold our values for every story published.