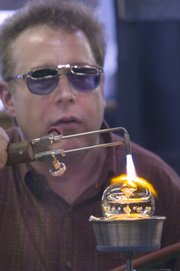 Bonner Springs — Glass art of every imaginable color and shape is on display in Bonner Springs this weekend.
The eighth annual Marble Crazy show kicked off Friday with marble-making demonstrations at Moon Marble Co., 600 E. Front St. The event attracted a few hundred guests by late afternoon.
Glass artist Mark Matthews, who gave a one-hour demonstration making his "Super Jetson 3" marble, seemed to draw the biggest crowd.
Matthews is the glass artist in residence at Sauder Village, a historic village in Archbold, Ohio, west of Toledo, and his work is on display throughout the world, including at the Smithsonian Institution's Renwick Gallery of the Museum of Natural Art.
Matthews joked and hammed it up throughout the process, which made up for what he described as a tedious number of trips back and forth to a gas furnace for heating the glass on the end of a long steel rod.
The finished product featured what Matthew called equatorial BB-balls or a circle of tiny pockets of air suspended in the glass around an hourglass-shaped bubble with a disk at its center. Matthews incorporates a small amount of uranium 238 to give the glass a greenish-yellow color that glows in the dark.
Roger and Sally Gieschen, who drove from Lenexa to see the marble show and the store for the first time, said the trip was well worth it.
"I always thought they were all blown," Sally Gieschen said, referring to marbles.
Mark Kornbluth, a glass artist from Lincoln, Neb., made his first appearance at Marble Crazy.
Kornbluth's specialties are what he called organic forms, which feature figures that look like moths and flowers. Kornbluth's display also featured jewelry and goblets.
Scott McBride, a collector who has about 80,000 marbles, displayed some of his treasures at the show, including a rare century-old marble with an angel figure inside.
Human figures are rare in marbles, McBride said, and animals are more common.
McBride played marbles as a kid, but said he was terrible. He joked that he lost his marbles playing the game.
"Now he's buying them all back," a passerby said.
Marble mania
¢ Marble Crazy continues today from 10 a.m. to 5 p.m. and capping the weekend will be the Marble Crazy Marble Collectors Show, set for 9 a.m. to 3 p.m. Sunday at Holiday Inn, 101 W. 151st St., Olathe.
¢ Admission is free, door prizes will be given and free identification and appraisals will be available.
Copyright 2018 The Lawrence Journal-World. All rights reserved. This material may not be published, broadcast, rewritten or redistributed. We strive to uphold our values for every story published.