Spodcasters
Dishin' again with Rece and Bilas
For the second year in a row, ESPN Game Day host Rece Davis and analyst Jay Bilas took time to catch up with the Spodcasters on the eve of their live broadcast from Allen Fieldhouse. In individual interviews, the two talk about the Jayhawks, what they love about Fieldhouse, their show and plenty more.
On the street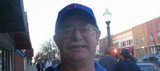 It'll be no contest; it's payback time.
If you're looking for Rece Davis in Lawrence this afternoon, your best bet is to post up east of the Kansas University campus.
"The Wang Burger at The Wheel, can't miss it," the host of ESPN College GameDay said of the famous ground beef morsel topped with fried egg, cheese and bacon. "I'll be doing that at some point."
The rest of Davis' Saturday schedule is packed. Along with analysts Jay Bilas, Digger Phelps and Hubert Davis, he'll be on set for the show's live one-hour broadcast on ESPN (Sunflower channel 33, 233 HD) at 10 a.m. in Allen Fieldhouse. They'll be at it again at 7 p.m. leading up to the 8 p.m. tip between KU and Kansas State.
This is GameDay's third trip to Lawrence in its four-year history. Though it's one that holds a special place with Davis each time.
"You can't really rank places, because each has its own innate, unique quality which makes it an enjoyable place to go," he said. "But I've said many times, this is my favorite trip. I love (Duke's) Cameron (Indoor Stadium). I love Breslin Center at Michigan State. Our first trip to (Indiana's) Assembly Hall a few weeks ago was terrific. Memphis was unbelievable. It was like a Final Four atmosphere.
"But I like the tradition at Kansas. I like the aura in the arena, even the little things like the lighting," he added. "Just even the windows up top, the way the floor shines when the light hits it, the Rock Chalk Jayhawk (chant) or the Wave the Wheat or whatever it is, I love the place. I think there are a lot of varied experiences in college basketball, and this is a great one."
Bilas, a former player and assistant at Duke under Mike Krzyzewski, gives a nod to KU's balanced attack when analyzing the game.
"It's one of the reasons they've won more games, they've been more consistent," Bilas said. "Kansas is just better. It doesn't mean they can't get beat here and there, but they're better, and they've proven that.
"People like to play transitive property of equality with basketball, but it doesn't work that way. They want to say 'Well, Kansas State beat Kansas, therefore Kansas State is better.' No, they're not. Texas beat UCLA - UCLA is better than Texas. We've got a tournament in the end to crown a champion, but the champion doesn't always mean 'best team.'"
Bilas also throws out KU's recent inconsistencies and notions of the lack of a 'signature win' on the Jayhawks resume when assessing where KU will go after tonight.
"Do you remember what seed (the Jayhawks) were in '88? What seed was Florida when they won it two years ago? See, that's the thing, nobody cares," Bilas said. The 1988 Jayhawks were a No. 6 seed, and the 2006 Gators were a No. 3. "Nobody knows that stuff. Nobody internalizes that. So if they're a two- or three-seed, what difference does it make? A one-seed, they don't put that on the banner. Whatever your seed is, that's out of your control. The only thing in their control is how hard they play and how together they play."
Doors open at Allen Fieldhouse at 8 a.m. for the 10 a.m. taping. Admission is free to the public.
¢ Kaun, Collins OK: Sasha Kaun, who has a bad back, and Sherron Collins, whose right knee (bruise) is not yet 100 percent, practiced Friday and should be available tonight.
¢ Home court a plus: Kansas State coach Frank Martin was an assistant on last year's Bob Huggins-coached KSU team that fell to KU, 97-70, at Allen Fieldhouse.
"Their crowd is one of the best home-court advantages in the country, and there's a reason for that. It's that atmosphere in that building," Martin said. "That's why they're so good at home. On tape, at least, they appear to play at a different speed at home than on the road."
¢ Balance vs. bravado: Tonight's matchup begs the question: Is it better for a team to have obvious go-to guys like Michael Beasley and Bill Walker who average 26.2 and 16.2 points per game, or balance like the Jayhawks, whose four leading scorers average between 13.7 and 12.2 ppg?
"If you have a (Wayne) Simien or someone like that, you want to play through them all the time," KU coach Bill Self said. "Why was Arthur (Darrell, 18 points at Iowa State) effective (Wednesday) night? He got easy baskets off offensive rebounds and loose balls. Why was he able to do that? Because he was in the game instead of on the bench with fouls. I love coaching teams with balance. And if we had a team that didn't have balance, I would say I love coaching that team.
"All teams are different. K-State is very smart in playing through those two guys and, in large part, everyone playing off of them. We're not a team that was built to do that as much."
KU's Russell Robinson noted: "Balance in the long run is going to work better. We have a lot of experience as well. We've had some ups and downs this season, and I think our experience is going to carry us along in March."
Here's Sasha Kaun's take: "We have some size, guards outside that can make plays. This makes for a good team. Two great players, I think it's easier to contain them than a whole team."
¢ Slumping of late: KSU, whose top three scorers (Beasley, Walker, Jacob Pullen) are freshmen, has lost three in a row and four of five.
"It's a new experience. I'm sure some of them are tired. The daily schedule is unlike anything they did in high school. But if we're tired and dragging, we haven't shown it," Martin said.
Pullen said the 'Cats were ready to give all-out effort tonight.
"I think there's more urgency because we need this for our resume. We need to show we're a good team, and we need a road win," Pullen said.
¢ Coming off bad game: Walker, who averages 16.2 points a game off 45.6 percent shooting, went 0-for-14 and had just one point in the K-State's last game, a 74-65 home loss to Texas.
"It happens. It's just a matter of trying to fight the whole game," Walker said. "I can score points. Everybody has their bad days, but I figured I wasn't going to make a shot when I wasn't going good, so I tried to pick up my energy on defense and tried to help my team out that way."
Copyright 2018 The Lawrence Journal-World. All rights reserved. This material may not be published, broadcast, rewritten or redistributed. We strive to uphold our values for every story published.