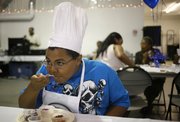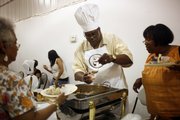 Chicken enchilada casserole and sweet potato cheesecake were among dishes in the running for the top prize in today's Real Men Cook contest.
"It's a twist on the cooking competitions that we normally see," organizer Donna Bell said of the all-men cooking competition. "These men are eager and happy to show off their culinary skills."
The event, presented by the Lawrence-Douglas County NAACP, took place at Steve's Place, 1388 N. 1293 Road.
Funds raised support scholarships for area high school students and go to the chapter's general fund, said Bell, the chapter's president. The organization awarded $750 in scholarships to area public school students this year.
"It brings people together," said Andrea Partee, a member of the NAACP. "It's not based on gender or ethnicity or culture. It just brings the entire community together."
The half-dozen featured cooks wore their white aprons and chef's hats as they offered up their dishes Sunday.
Kevin Johnson, a winner in last year's competition, tried out his Italian cream cake.
"I'm in it to win it, all the way," he said. "There's good cooks out here."
Cameron Partee, 9, a sous-chef on David Classen-Wilson's team, said his mini fruit tarts with kiwis, raspberries and blueberries on shortbread crust could stand up in the challenging contest.
"We're competitive," he said. "Out of the all the things I tried, this is the best."
Copyright 2018 The Lawrence Journal-World. All rights reserved. This material may not be published, broadcast, rewritten or redistributed. We strive to uphold our values for every story published.