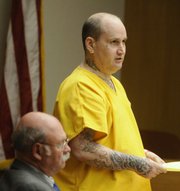 A Douglas County judge has denied a request for a new trial for a man convicted of raping two Lawrence women more than a decade ago.
An attorney for 39-year-old Cory Elkins filed the motion in Douglas County District Court, after a jury last month convicted his client of four counts of rape and three counts of aggravated criminal sodomy.
Defense Attorney Jim Rumsey argued that evidence of a DNA hit on the FBI's CODIS (Combined DNA Index System) database that led authorities to Elkins was unfairly introduced at trial.
Judge Michael Malone denied the motion, saying the evidence was allowed to explain to jurors what officers were doing in California.
Elkins, who was living in Sacramento, Calif., was identified as a possible suspect in the rapes of several women in Lawrence in the mid-1990s, when a sample of his DNA was entered into the database.
Elkins was scheduled to be sentenced today, but Malone delayed the hearing while both sides continue to debate Elkins' criminal record.
Changes in sentencing laws in the 14 years since the first rape took place are issues in that debate.
The judge has not yet set a new sentencing date.
Copyright 2018 The Lawrence Journal-World. All rights reserved. This material may not be published, broadcast, rewritten or redistributed. We strive to uphold our values for every story published.