On the street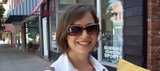 My friend lives by a golf course in Kansas City and they put on a good show every year, so I usually go there.
Safety concerns have prompted organizers to move the annual Fourth of July fireworks display from Burcham Park, on the south side of the Kansas River, to Sesquicentennial Point at Clinton Lake.
In past years, about 5,000 people have crammed into the park, at Second and Indiana streets, and along the Second Street Bridge, leading into North Lawrence, to watch the fireworks, said Gary Saathoff of the Lawrence Jaycees, which organizes the annual display.
"There was always a fear, being next to the river like that, somebody could fall in. We've known for quite some time that we weren't going to be able to stay at Burcham Park forever," he said.
This July Fourth, people are invited to park in a field below Sesquicentennial Point, at the north end of the Clinton Dam north of the spillway, to watch the fireworks show. But only 2,000 cars will fit.
Saathoff said the fireworks likely would be visible from Clinton Lake and surrounding neighborhoods, but the field is the only organized viewing location.
"Please be patient with us and we'll try to do the best we can. If you've got a problem, we'll fix it next year," he said.
The City of Lawrence, Army Corps of Engineers, Lawrence Police Department, Douglas County Sheriff and Kansas Highway Patrol are participating in the planning for the event and will help direct traffic before and after the show, Saathoff said.
The fireworks display starts at 10 p.m. July 4 and is expected to last between 30 and 45 minutes. The Jaycees spent $14,000 - $2,000 more than last year - on fireworks. The field will be open to cars beginning at 8 p.m. There won't be a concert before the fireworks display this year because there's no electricity at Sesquicentennial Point, Saathoff said. However, there will be vendors selling shaved ice and ice cream.
Copyright 2018 The Lawrence Journal-World. All rights reserved. This material may not be published, broadcast, rewritten or redistributed. We strive to uphold our values for every story published.