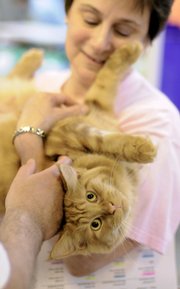 TODAY
The cat show continues today at the Douglas County 4-H Fairgrounds.
The public is invited from 9 a.m. to 3 p.m. in Building 21.
Admission for adults is $5. For seniors 55 and older and children 12 and younger it's $4.
It's all about personality for the underdog, or in this case, the undercat.
Dozens of cat lovers aimed to reach an unattainable standard of perfection while showing off their various purebreds at Saturday's Cat Fanciers' Association Kansas City Midwest Cat Show at the Douglas County 4-H Fairgrounds. Among them, household and rescue cats put on another kind of show.
"The household pets are wonderful, their personalities, and you get to see all different colors," said Jan Rook, 57, Springfield, Mo., one of the show's judges. "And it's really nice because the household people root for each other and they tell us their names; it's fun."
Take P-Knutt for example, a domesticated mixed breed short hair rescued by Amy Hanson, a veterinarian student from Wamego who has worked with foster cats for a decade. The cat's mother was hit by a car when it was just days old. Hanson helped bottle feed P-Knutt, and Karen Henneke, 67, from Great Bend, Mo., became the cat's new mother who now shows her off at various cat shows.
"It's great to be able to celebrate them even though they aren't purebred cats and they don't have these long pedigrees behind them," Hanson said.
The domestic category also attracts more people to the shows, she said.
"This gives the average individual the chance to experience cat showing with a cat that they might have at home or if they just find that special cat in the shelter and give it a chance in the household category. It just kind of shows the diversity of the feline world to a lot of people."
More than 106 cats from tiny, fuzzy Sphynx cats to curly-haired Selkirk Rexes and Asian Leopard Bengals took part. The show is divided into four classes: kittens, cats, exotic and altered. The top 10 are recognized.
With the purebreds, it's the striving for perfection that keeps people like Rook devoted to the hobby.
"It's basically like horse shows, dog shows, everything," Rook said. "You want the perfect animal. And you're never going to have the perfect animal, because man wrote the standard for it, but you want to strive to get close.
"A lot of breeds are really hard to get that," she said. "For you, it's a coup to have reached that goal. And all of us love our babies, so there's more to it than just winning that ribbon. We love what we do."
Copyright 2018 The Lawrence Journal-World. All rights reserved. This material may not be published, broadcast, rewritten or redistributed. We strive to uphold our values for every story published.