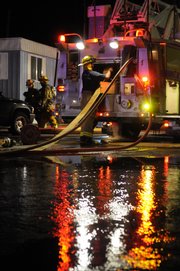 A two-alarm fire at a southeast Lawrence mobile home park devastated a single-family home late Tuesday night.
The blaze, at 2200 Harper St., began shortly before 10 p.m. at the Harper Woods complex. Fire Chief Mark Bradford said emergency crews declared it under control at 10:20 p.m. No one was in the building at the time of the fire and no injuries were reported.
The fire began in the northern corner of the mobile home, and one neighbor said he believed that to be where the master bedroom was located. The blaze appeared to have gutted the back end of the home.
Bradford expected the home to have significant damage.
The cause of the fire was under investigation, and firefighters continued to look for hot spots more than an hour after the blaze was declared under control.
Bradford said a woman and her two children live in the home.
A crowd of neighbors gathered behind yellow police tape to watch the aftermath of the fire. Witnesses said the fire looked big.
The flames "were pretty tall there for a while," said neighbor Sam Barnhardt, who said an adjacent telephone pole also caught fire.
"I'm just scared because that's my best friend's house," said Brooke Bulleigh, 13.
Bradford said emergency crews would be in touch with the American Red Cross if the family needed assistance Tuesday night.
James Greenage has lived next door to the home for two years. He said he stepped outside to smoke a cigarette when he saw something "run across the trailer."
Upon further investigation, he discovered the fire.
"It (sounded) exactly like a fireplace," he said.
Greenage said his first instinct was to check the home to see whether the children were inside. He started banging on the front door, then called 911.
"As soon as I did that, the whole back of the trailer went up in flames," he said.
He put his two children in the family car in case flames spread to his home.
"I just wish I had come out five minutes earlier," he said. "I could have called. I could have saved something."
Copyright 2018 The Lawrence Journal-World. All rights reserved. This material may not be published, broadcast, rewritten or redistributed. We strive to uphold our values for every story published.