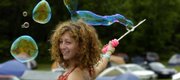 The fifth annual Wakarusa Music and Camping Festival starts on June 5th and runs through June 8th. Organizers are planning on more than 13,500 guests, which would make Clinton State Park the second-largest city in Douglas County until the festival wraps up. See videos, photo galleries, the Wak Talk blog, Best Bets, and more about the Wakarusa Fest.
It's a sure sign that the Wakarusa Music and Camping Festival is over: earlier today, the volunteers lined up and the trash piled up at the Clinton Lake campgrounds as cleanup efforts hit full swing.
Copyright 2018 The Lawrence Journal-World. All rights reserved. This material may not be published, broadcast, rewritten or redistributed. We strive to uphold our values for every story published.