Photo Gallery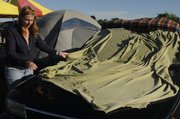 Wakarusa Fest 2008, Day 2
Day Two of the Wakarusa Music and Camping Festival brings the first of the big acts - but attendees will be spending a lot of their time getting dry.
Past Event
featuring Ben Folds / STS9 / Keller Williams / Leftover Salmon
When: Saturday, June 7, 2008, 10 a.m.
Where: Clinton State Park, Clinton Lake, Lawrence
Cost: $49 - $469
-->
-->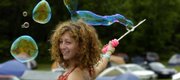 The fifth annual Wakarusa Music and Camping Festival starts on June 5th and runs through June 8th. Organizers are planning on more than 13,500 guests, which would make Clinton State Park the second-largest city in Douglas County until the festival wraps up. See videos, photo galleries, the Wak Talk blog, Best Bets, and more about the Wakarusa Fest.
2008 Wakarusa Video Portraits
With his hands full of trash and recyclables at last year's Wakarusa Music and Camping Festival, Rylan Ortiz, 25, dug up a plan to start a composting effort at this year's fifth annual festival.
Dubbed "Wormarusa," the composting program works by having volunteers through Recycalusa, a recycling organization, help food vendors at Clinton State Park compost their waste. After all, those leftover french fries, sandwiches and coffee grounds can really add up.
"I've hauled a lot of bags and I know the weights that are on average generated at a festival like this," said Ortiz, recycling co-director for Wakarusa. "It is a very heavy product, food waste, so it really does help increase our numbers as far as being a 100 percent sustainable, zero waste-generated event if we can collect food waste."
Many of the vendors at the four-day festival have responded well, Ortiz said Friday.
Behind Buzz-Thru Espresso Bar, a coffee vendor based in Loveland, Ohio, sat a plastic bin of coffee grounds, next to boxes of recyclable plastic coffee cups.
"This festival is recycling better than most festivals do," said Bruce Wolff, 65, owner of Buzz-Thru, who travels to numerous festivals throughout the year. "The larger festivals don't do this good a job of sending these people around to recycle. ... I'm glad to see these folks taking care of the festival."
Ortiz learned his composting lesson firsthand as a Hallmark intern. There, Missouri Organic Recycling composts the cafeteria food. Ortiz arranged for the company to contract with Recycalusa for Wakarusa.
"We're starting kind of small this year," Ortiz said. "This being the first time, just like the first year of Recycalusa, it's a challenge just in itself. To me, it's to get a final product that is of high quality and good purity that warrants a contractor to come out here and pick it up."
The process goes something like this: Volunteers go to the vendors twice a day or more and collect their waste in smaller containers. In their motorized carts they haul it to a "roll-off" on the perimeter of the site. Then, on Tuesday, it will be collected by Missouri Organic Recycling.
Add that to the other recycling efforts at the festival, such as the availability of free recycling bags and bins throughout the site, and the organization is helping Wakarusa and the state park keep the area clean.
Copyright 2018 The Lawrence Journal-World. All rights reserved. This material may not be published, broadcast, rewritten or redistributed. We strive to uphold our values for every story published.