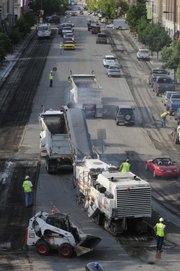 The Massachusetts Street repaving project began as scheduled Wednesday morning with crews from Miles Excavation milling the 600 block.
Traffic, however, was being allowed to drive around the workers. Drivers should expect delays, restrictions in parking and a rough road surface.
During the actual repaving of the street, two-block sections of Massachusetts Street will be closed to traffic. Here's the schedule, weather permitting:
- Massachusetts from Sixth to Eighth streets will close June 9 and reopen June 13.
- Eighth Street to 10th Street is scheduled to be closed from June 16 to June 20.
- 10th Street to North Park Street is set to be closed from June 23 to June 27.
During the project, sidewalks will remain open, and crews will keep the Ninth Street intersection open to traffic.
Copyright 2018 The Lawrence Journal-World. All rights reserved. This material may not be published, broadcast, rewritten or redistributed. We strive to uphold our values for every story published.