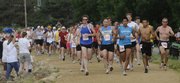 Jim Mandigo is going to get a special Father's Day gift this month, thanks to the running and fundraising abilities of his wife.
Carrie Mandigo earned a basketball autographed by Kansas University's national champion men's basketball team. She was recognized for raising the most money for Saturday's Nash Dash benefit 8K race and Family Fun Run. Not only did she pay her $20 entry fee but she also raised $1,100.
"He's going to be thrilled," Carrie Mandigo said of her husband, who will receive the ball on behalf of her and their two children.
The 7th annual Nash Dash is a benefit for Bert Nash Community Mental Health Center's program called Working to Recognize Alternative Possibilities, or WRAP. It is a school counseling program for at-risk students in Douglas County secondary schools. An estimated $10,000 was raised by the benefit from runners and sponsors, said Jerry Bottenfield, Bert Nash community development director.
A registered nurse, Carrie Mandigo is a believer in WRAP and knows a lot of people involved with it.
The funds will support WRAP's summer program for youths, Bert Nash chief executive Dave Johnson said. WRAP's yearly budget is $500,000.
"Stable funding is always a challenge for the program but the need goes on year-round," Johnson said. "It's really important and it's great to see so many people turn out."
Nearly 200 people laced up their running shoes and participated in the competitive 8K race, which is about 5 miles. Another 50 people walked or ran in a noncompetitive 1-mile event.
In the 8K race, the overall winner for the men was Grant Catloth, 20, with a time of 27 minutes and 49 seconds. The overall women's winner was Michelle Hein, 30, with a time of 33 minutes and 11 seconds. Former Kansas University Olympic runner and Lawrence resident Jim Ryun sent the 8K runners off and then turned around and ran with them.
"I'm a supporter of what they are doing here and I'm just happy to be a part of it," he said.
Copyright 2017 The Lawrence Journal-World. All rights reserved. This material may not be published, broadcast, rewritten or redistributed. We strive to uphold our values for every story published.