Kansans gear up for tractor pull competition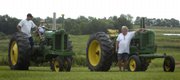 -->
-->
Audio Slideshow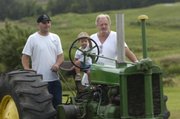 The Enright family and tractor pulling
To view a version of this gallery, <a href="http://www2.ljworld.com/photos/galleries/2008/jul/30/enright_family_and_tractor_pulling/flash/">visit our audio slideshow.</a>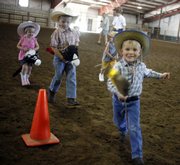 Livestock, a world of entries, a carnival and a demolition derby - see the sights and hear the sounds of the 2008 Douglas County Fair.
-->
Bo Enright sits atop his tractor, takes a breath and turns on the ignition.
A rumble somewhere in the decibel range between a jackhammer and a jet engine discharges from his vehicle - all 765 horsepower of it. Those within proximity of the motorized beast instantly retreat with hands gripped to both ears.
"It's not as loud when you've got a fire suit and helmet on," Bo Enright says.
This is no ordinary tractor. The cherry red custom "hot rod" only features the grille and rear end of a 1947 Farmall. The rest of the vehicle is a custom fabrication by Enright, resulting from a painstaking (and expensive) dedication to the sport.
"It's not what you buy, it's what you build," he says.
Enright averages 20 or so tractor pulls a year with the vehicle - slightly less in 2008 due to the birth three weeks ago of his daughter, Brooklyn. He'll take part in a competition today during an event held at the Douglas County Fair in Lawrence.
"I'm a farm kid, and I've always been on tractors," says the 29-year-old Wellsville resident. "I think I got my first tractor when I was 13."
About five years ago he began dabbling with hot rods and eventually focused all his attention on this category of tractor pulling.
He christened his tractor "Impatient."
"Impatient kind of replicates me because I don't have the best patience," he says. "Impatient also happens to be a flower, so that coincides with Enright Gardens."
This family greenhouse business in Edgerton, owned by Bo's parents, Steve and Sue Enright, factors into the tractor culture in which the younger competitor was raised.
Steve is also an avid tractor puller - albeit in the antique division.
His vehicle of choice is a vintage 1947 Farmall that was originally designed for cultivating sugar cane.
"We call this one 'High Class' just because it's higher than the others," Steve says. "But usually I say, 'Come on, Babe,' when we're pulling."
Despite the family's shared love of tractor competition, there remains a sizeable rift between father and son: Bo is a John Deere devotee and Steve is a Farmall man.
It was actually Bo who enticed his dad into the sport.
In 1991, Bo started tagging along with a neighbor friend who was involved in pulls. At age 13 he took part in his first event.
"Everybody there and all the other pullers saw that I was competent in running one, and they didn't really say nothing about me pulling at such an early age. You were supposed to be 14 with parental consent," Bo says.
A few years later, Bo swayed Steve into actively participating.
In tractor pulling, competitors tow a heavy sled along a track. The weight transfers up the sled, so the further it is pulled, the more resistance it offers.
Usually, contestants start at 3,000 pounds and work their way as high as 8,500 pounds.
"You might pull against a guy who's 85 and there might be a boy of 14. It's a good sport for young kids, and that's why I pushed it for my son," the 57-year-old Steve says.
In 1996, Bo took fifth place in the nationals held in Kearney, Neb. Last year he ended up third in points within the northwest Missouri circuit.
So does tractor pulling have the same allure as driving a race car when it comes to impressing the opposite sex?
"I don't think it would work," Bo says. "I've been married for a while, so I haven't tried that. But I don't think you'd want any tractor groupies. I don't think the quality would be that good."
Copyright 2018 The Lawrence Journal-World. All rights reserved. This material may not be published, broadcast, rewritten or redistributed. We strive to uphold our values for every story published.