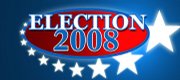 In-depth coverage of the candidates and the issues, all leading up to the Aug. 5 primary and the Nov. 4 general election.
Candidate chats
Douglas County Commission, Second District
Douglas County Commission, Third District
In what was voters' first and final opportunity to hear Douglas County Commission candidates' stances on issues before Tuesday's primary elections, the eight candidates didn't stray far from each other on issues ranging from land use to the necessity of townships.
The forum, organized by the Voter Education Coalition, took place at Kansas University's Dole Institute of Politics and drew more than 50 people.
2nd District Democrats Ken Adkinson and Nancy Thellman swapped platforms with Republicans David Brown and Grant Eichhorn. Democrats Ken Grotwiel and Clenece Hills of the 3rd District sparred with Republicans Jim Flory and John Tacha.
Money drew top billing, with most candidates shooting down the idea of raising the mill levy to pay for economic development. Brown and Adkinson both said they would support a raise, "but it has to make sense with a quick turnaround," according to Brown.
Moderator Ann Gardner, the Journal-World's editorial page editor, asked the candidates how they would confront allocation of the county's revenue. Hills, Flory and Tacha said public safety was their number one priority, but Grotwiel said commissioners need to be more creative with budget allocation.
"Public safety is eating our budget alive," he said. While programs like the county's re-entry program should be a top priority, commissioners need to consider how to shave the budgets of city departments and social service agencies, he said.
Eichhorn, who owns a construction company, said funds must be allocated wisely.
"Looking for efficiency, as a business owner, is job one," he said.
Candidates took a stand for the elderly, each identifying transportation as the top issue for retirees. Thellman said the county's services were falling behind the promises made in marketing pitches.
"If we market ourselves (to retirees), we have to provide," she said, citing public health as another weak spot.
All 3rd District candidates said they support the construction of the South Lawrence Trafficway with the 32nd Street alignment. Thellman was the only 2nd District candidate to oppose the idea.
An audience member asked if 3rd District candidates would consider doing away with townships, to which Flory said he was "leery of consolidation. Townships are the closest level of government to the people, and I think they should be preserved."
Tacha and Grotwiel said the issue should be considered to save money, while Hills said townships were "not obsolete."
Tacha promoted a session-long theme of consolidation, suggesting the county, the city of Lawrence and Lawrence Public Schools could combine some services, such as transportation, while service agencies could also work together to cut costs.
Gardner asked the panelists if they support using agricultural land to build industrial and business parks.
"We need to preserve and grow," Flory said, echoing the 3rd District candidates. "The balance comes from studying where expansion least impacts the land."
Second District candidates were more cautious. Brown would support construction if it would bring jobs, he said, but Thellman said agriculture is a tax-effective industry itself.
Copyright 2017 The Lawrence Journal-World. All rights reserved. This material may not be published, broadcast, rewritten or redistributed. We strive to uphold our values for every story published.