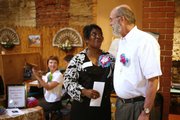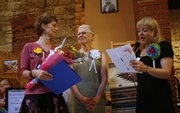 Judge Jean Shepherd will take every opportunity she gets to recruit volunteers to work with abused and neglected children in Douglas County - even on a quick car trip.
Twenty years ago, Guy Dresser, a KU graduate and Allen Press employee, gave Shepherd a ride back to the courthouse following a Kiwanis meeting at which Shepherd spoke.
Little did he know then that he would be recruited by Shepherd to affect children's and teens' lives as a Citizen Review Board volunteer, a program started by Shepherd in the county in 1986.
Dresser also received another surprise Saturday night at Cielito Lindo, 815 N.H. He was awarded the Citizen Review Board Volunteer of the Year Award at the 17th annual Casa4Casa fundraiser event.
"I feel very honored and humbled by getting the award," he said.
As a volunteer, he helps review child-in-need-of care cases. That includes helping them in school, and more recently he began reviewing juvenile offender cases.
Dresser was joined in recognition Saturday by a CASA volunteer, Andrea Partee. Partee was awarded with the second annual Honorable Jean F. Shepherd Volunteer of the Year Award.
In 1991, Shepherd founded Douglas County Court Appointed Special Advocates, a nonprofit agency that recruits volunteers to act as advocates for abused or neglected children who are under the protection of juvenile court. The volunteers, called CASAs, are trained to work one-on-one with children and teens who have been removed from their homes.
"It's just amazing to me what the volunteers do, the amount of time and energy and heart they put into what they do," Shepherd said. "And that's what's so rewarding, and seeing that these programs are still going on."
Partee, has volunteered with CASA for the four years she has lived in Lawrence. A year-and-a-half ago, she was assigned her second case with a 17-year-old Topeka girl.
"I'm just glad she's in my life and I'm in hers," she said.
Shepherd said Douglas County was doing well serving youth in the juvenile system in large part because of the volunteers who she said were willing to advocate for resources for children.
To help spread awareness and to raise money for CASA, donations are collected for the chance to win a children's playhouse, designed and built locally. Bryan Hedges was announced the winner of this year's two-story cottage playhouse at the fundraiser.
Saturday's Casa4Casa event also featured a live and silent auction. The event typically raises about $15,000 for CASA, which served 77 children last year.
Copyright 2018 The Lawrence Journal-World. All rights reserved. This material may not be published, broadcast, rewritten or redistributed. We strive to uphold our values for every story published.