Related document

Kansas Athletics Inc. Ratings Report ( .PDF )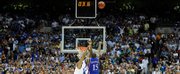 The Lawrence Journal-World looks back at the men's basketball season of 2007-2008, in which the Jayhawks claimed the NCAA championship title for the first time in 20 years and its third ever.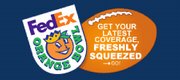 Video, photos, blogs, podcasts, latest news and more!
As if an Orange Bowl championship and national basketball title weren't enough already, Kansas University is riding its athletic prowess into unprecedented success in what just might be the most competitive market around.
High finance.
After winning on the football field and the basketball court, Kansas Athletics Inc. is cashing in through both donations and investments.
This week, the department will get a $29 million deposit for its construction account - proceeds from the sale of $32.8 million in athletics revenue bonds by the Kansas Development Finance Authority.
The bonds went on the market earlier this month and sold out within a day, with unusually high support from individual investors, officials said. Fewer than 30 percent of the bonds went to institutional investors, such as retirement funds, regional insurance companies and others that typically snap up more than half of such offerings.
Instead, individual investors - the large majority of them Kansans, and most of them supporters of KU - managed to secure the revenue bonds, which were offered in $5,000 increments.
"There were five buyers for every one bond that we had," said Jim MacMurray, the authority's vice president for finance. "Our actual retail orders were over $40 million, but we could only fill $30 million of those."
Unusually high demand
Issuers rarely can fill every order they get, MacMurray said, but the sheer volume of orders proved unusual. And it was the Jayhawks' football and basketball success that generated the high pent-up demand among such "retail" investors, said Steve Weatherford, the authority's president.
"It's fair to say it was worth at least $10 million, and possibly even $15 million of retail sales," Weatherford said, of the football and basketball success. "We were very fortunate. There have been a number of (other bond) issues that don't have the support that we got, and they had to pull them off the market."
Proceeds from the bond sale will serve as a series of loans to Kansas Athletics Inc., which will use the revenue to tackle a number of construction and remodeling projects at Allen Fieldhouse, the Horejsi Family Athletic Center, the Wagnon Student Athlete Center/Parrott Athletic Center and vicinity.
The projects picked up speed once KU won the national basketball title in April. Basketball will get a new practice facility, remodeled locker rooms and other upgrades, and other tasks are in the works.
The work ultimately will be financed by donations and department revenues, which will be used to pay off the bonds. Kansas Athletics already has secured $4 million in donations to go toward the bond projects, MacMurray said.
'Stupendous growth'
Investors, meanwhile, are getting an opportunity to earn interest on money that supports the athletics program.
"This is a way to help the Jayhawks and get paid for it," said Sean Williams, a Lawrence Realtor and descendant of founders of Kansas Athletics' fundraising operation, the Williams Fund. "I don't think it adds to your Williams Fund points, though."
While Williams didn't buy into the latest bond issue, he has done so in the past. And even with financial markets exhibiting plenty of volatility, he considers KU a crimson-and-blue chip investment.
"Right now, people are looking for solid investments, and what better investment is there than the KU athletics department?" Williams said. "It's certainly had stupendous growth and performance. If I was a betting man, I'd say they're moving forward."
Dan Watkins, a Lawrence attorney who serves on the board of directors for the authority, said he wasn't surprised that the bond sale went well - for all involved.
The average interest rate being paid to investors, 4.78 percent, came in below what some other comparable bond issues were offering, authority officials said. And Kansas investors had the opportunity to show tangible support for their Jayhawks, through purchases in the free market.
"We were very pleased with the sale and how it went, in what obviously have been tough market conditions," Watkins said. "We got good results."
Just like a couple of KU teams that ended their seasons on winning notes.
Copyright 2018 The Lawrence Journal-World. All rights reserved. This material may not be published, broadcast, rewritten or redistributed. We strive to uphold our values for every story published.