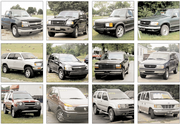 Lindsay Wilson managed to sell two TVs, a VCR, a chair, some old "Sesame Street" stuffed animals, a dorm-room comforter, two couches - even a slipcover that she'd draped over one of the couches to hide its antiquated "old lady" fabric.
Only one item remains from her personal moving sale as the Kansas University graduate packs up for next week's relocation to Florida, where she'll start her career as a speech pathologist.
It's a 2001 Ford Explorer Sport, and she's asking $6,200.
"It's an excellent car," said her father, Terry Wilson, who recalls paying more than $15,000 five years ago for the Explorer back when the SUV was among the hottest vehicles on the road. "We had a hell of a time finding it. It took several months, and back then everybody was begging us to sell it to them."
Now, a month after putting "For Sale" scrawlings in the windows and watching as gasoline prices tickle $4 a gallon, the Wilsons are still waiting for an offer.
"It's the scare, the gas price scare," Terry Wilson said. "I didn't think I'd have any problems selling it, but people are shying away."
Throughout Lawrence and across the country, owners of SUVs, large trucks and minivans - vehicles with relatively large thirsts for fuel - are facing more than especially large gasoline bills. Such owners also are grappling with a corresponding slippage in demand for their assets.
Junior Brubeck, president of Jim Clark Motors in Lawrence, acknowledged that demand for SUVs had decreased during the past year.
Sales of new SUVs at his dealership are down about 30 percent from a year ago, he said. And while prices remain relatively steady - unlike for used SUVs, whose prices are off 20 percent to 25 percent - incentives are being offered to help customers be more comfortable buying new SUVs.
"Everything is market-driven," Brubeck said.
But Brubeck takes comfort in knowing that manufacturers are coming up with more fuel-efficient SUVs, and that many customers continue to buy and hold such vehicles out of need. Try pulling a boat, hauling equipment or ferrying around a large family with an economy car.
For someone with needs, and a desire to avoid ending up with a minivan, a mid-size SUV and its 18 to 20 miles per gallon performance works out just fine.
"That can be an acceptable fuel economy," he said.
Terry Wilson sure wouldn't mind finding someone willing to live with his daughter's Ford Explorer Sport. The vehicle with 130,000 mostly highway miles gets 17 or 18 miles per gallon on the highway, and 14 to 15 miles per gallon in town.
The SUV has a sunroof and has been refreshed to the tune of $2,500 - including four new $150 tires - during the past three months.
Now the 4-wheel-drive Explorer just needs a buyer.
"It's a great car," Lindsay Wilson said. "It's kind of sad that nobody wants to come look at it."
Copyright 2018 The Lawrence Journal-World. All rights reserved. This material may not be published, broadcast, rewritten or redistributed. We strive to uphold our values for every story published.