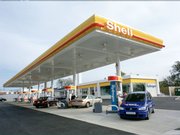 Washington — As the cost of filling up skyrockets, a government-backed study released Thursday says America could nearly eliminate its need for gasoline for cars, pickup trucks and SUVs by 2050 if the government helps build a market for hydrogen fuel cells and other technologies.
The study by the National Research Council of the National Academies, the government's adviser on science, medicine and engineering, looked mainly at the future of hydrogen fuel cell vehicles. It concluded that with about $55 billion in government support in the next 15 years, hydrogen vehicles could be competitive with gasoline-powered ones by 2023 and common on the roads by 2050.
Congress asked the advisory body to look at prospects for hydrogen and alternatives that could have the largest impact by 2020. The experts group's findings are a best-case look at low-carbon fuel options at a time when President Bush and some members of Congress are pushing for expanded searches for domestic oil.
Light-duty vehicles use
44 percent of the oil used in the United States and emit more than 20 percent of the carbon dioxide, the main heat-trapping gas causing global warming. The report said hydrogen alone could eliminate more than 60 percent of this oil use and carbon by 2050.
If the nation used hydrogen and other low-carbon fuels as well, by the same year, carbon dioxide emissions from cars and trucks could be cut to less than 20 percent of current levels and they'd need almost no oil.
"There needs to be durable, substantial and sustainable government help for this to happen, just like there is for ethanol," said Michael P. Ramage, a retired executive vice president of ExxonMobil Research and Engineering Co. who has a doctorate in chemical engineering from Purdue University. He also chaired the study panel.
The study noted that this $50 billion compares with $160 billion for ethanol over the same 15-year period if current subsidies are extended.
Copyright 2018 The Lawrence Journal-World. All rights reserved. This material may not be published, broadcast, rewritten or redistributed. We strive to uphold our values for every story published.