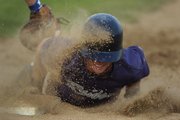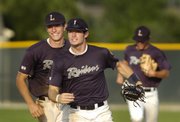 Caleb Gress did it all season for Free State High School's baseball team: Dominate the opposing batters.
His pitching prowess has carried over to the summer and has given the Lawrence Raiders a stable No. 1 starter.
On Friday at Ice Field it was Olathe South that had the opportunity to try to hit Gress. And failed.
The Firebird went seven shutout innings and allowed just four hits and one walk. He also struck out nine batters in the 4-0 win in Game 1 of a doubleheader. The Falcons won the second game, 13-11.
"He's been really dominant. His last outing, he threw six innings and struck out 17," Raiders coach Shaun Edmondson said of Gress. "So two starts in a row where he's thrown complete-game shutouts. He's just in a groove and he's carving people up and just doing a great job."
Both players and coaches said that Gress' strong presence on the mound has translated to a strong defensive presence behind him.
"I think when he's on the mound everybody is confident in the field," said Jake Green, who was behind the plate for Gress' performance. "We know that we're not going to have to score very much when he's pitching because he usually holds teams to one or zero runs. He's just really good. He's pretty special."
Travis Sanders gave Gress the early lead when he scored Matthew Abel in the first inning on a fielder's choice.
Gress received two insurance runs in the following inning when Lance Lamborn brought in Green and Sanders plated Drew Hulse. The Raiders' final run came when Abel hit a two-out single in the bottom of the sixth that scored Joe Kornbrust.
"After the game, I told the kids that's the best we've played all year," Edmondson said. "That was the best game we've played fundamentally within the three facets of the game as far as pitching, defense and hitting."
The hitting was on in the second game as well - particularly by Green, who went 2-for-3 with a home run and five runs batted in.
It was the defense, however, that failed Lawrence in the final inning of the doubleheader. Holding onto an 11-7 lead heading into the top of the seventh inning, the Raiders committed three costly errors - including two that would have ended the game.
All six of Olathe South's runs in the seventh inning ended up coming with two outs. Four of those runs scored after back-to-back errors.
"It's tough. We thought we had them - we did have them - but we just let them fight back," Green said.
"We've got to be able to put away teams like that. And we'll be able to. We'll be all right. Our team is good enough to bounce back from this."
Copyright 2018 The Lawrence Journal-World. All rights reserved. This material may not be published, broadcast, rewritten or redistributed. We strive to uphold our values for every story published.