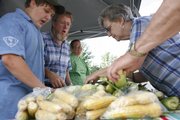 How To Roast Supersweet Corn-And Give Them A Brush On
Sweet corn is delicious on its own. But if you're looking for some variety, here are some quick flavor enhancers you can brush on. Each dressing is enough for six ears of corn.
Orange-soy glaze-mix: 1/4 cup orange marmalade and 1 tablespoon soy sauce.
Mustard butter-blend: 1 tablespoon Dijon-style mustard into half a stick of softened butter or margarine. Or, skip the butter and just brush on some honey mustard.
Pesto: Spread each ear with about 1 tablespoon prepared pesto.
Herbed oil: Combine 1/4 cup olive oil, 2 tablespoons finely grated Parmesan cheese and 1/2 teaspoon dried, crushed oregano.
Avocado spread: Mash the flesh of one peeled and pitted ripe avocado with 1 teaspoon lime juice, 1/8 teaspoon salt and Tabasco to taste.
Sesame rub: Omit oil before cooking, then cover roasted ears with a light coating of toasted sesame oil.
Source: Fresh Supersweet Corn Council
Sweet corn - it is the taste of summer.
Its appearance signals the true beginning of the nostalgic happenings of the season - backyard barbecues, pool parties and 90-degree heat.
Its disappearance by mid-August means it's time for the kids to go back-to-school shopping and cooler weather is around the corner.
"It's a rite of summer," says Connie Landes as she picked up six ears from Peters Family Farm at Thursday's Lawrence Farmers' Market. "This time of the year, you wait for this all year long, because the only time it's really that good is in the summertime."
The highly anticipated summer vegetable made its appearance as a local product of Douglas County at the beginning of the month, and now most growers are finally ready to get a glut of ears, just in time for the high heat of mid-July.
Mary Ross of Bismarck Gardens in North Lawrence says she'll look out her window and see cars slowly driving past the Bismarck Gardens building, located behind her house. Regulars know Bismarck opens when the sweet corn is ready, and they're not shy about showing their anticipation.
"A lot of people come out and just see, and I know a lot of people just drive by the road right there and they call," Ross says. "I don't mind them calling."
For Ted Grinter of Grinter Farms, the calls start with snow still on the ground.
"I've had people ask about it back in January," Grinter says.
Fresh from the field
The persistence is for good reason, says Nancy O'Connor, director of education and outreach at the Community Mercantile, 901 Iowa. O'Connor says that if a farmer knows his or her crop, the corn is as perfect as it's going to get.
"The job of the farmers is to know when to pick their corn," O'Connor says. "When corn starts to mature, the sugars are converted to starches. And it's less delicious and sweet. So what you really need to do and want to do is pick corn literally at the peak ... It's mature enough to eat, but not so mature it's starting to get starchy."
O'Connor says there's an old joke that the best way to eat corn on the cob is to bring a pot of boiling water into the field and cook it right there - something Marcia Peters of Peters Family Farm says is nearly true.
"Traditionally, corn has always been viewed as something that is best picked and eaten immediately. We know that it doesn't necessarily hold up to storage and shipping very well, usually tastes best from the patch," Peters says. "They do try to breed it now, so that it'll hold up to storage, but still, corn is something that is just best - corn and tomatoes are best - as close to home as you can get them."
Enjoying your cob
To enjoy that flavor, there are a number of ways to cook your precious ears - boiled, steamed, grilled or microwaved. Everyone has their own cooking method, but once the corn is piping hot and ready to eat, the healthful summer treat can easily turn into a tasty caloric nightmare as quick as you can say "pass the butter."
"Corn is a vehicle for butter," O'Connor says, likening it to a salad that becomes a vehicle for dressing. "What I say to people is, a lot of our eating habits are just that, they're habits and they're learned. And most people, me included, when I have fresh sweet corn, my immediate reaction is to do that, to want to roll it around in butter. If it's a modest amount, that's OK. But if we eat a healthy salad and it becomes a vehicle for 30 grams of fat from ranch dressing, then we're kind of undermining what we're doing."
She suggests trying a row of corn before drowning it in a little glass butter trough, just to get a sense of the sweet local flavor.
Can do without the butter, but need a little salt to go with the corn's sweetness? O'Connor suggests looking beyond traditional table salt and being creative. She has a "far out" suggestion on how to get that salty taste without needing the butter to keep the salt in place - umeboshi plums. The pickled Japanese condiment can add a salty sheen to your ear of corn.
"If you're trying to cut down on butter, but you need your salt to stick to your ear of corn, you can take one of these little umeboshi plums and just rub it up and down on the ear of corn and the paste from the plums sticks on the corn, so you get your little bit of salt, but you didn't have to use as butter," O'Connor says.
Buttered, peppered, salted, plumbed or plain, sweet corn is ready to be enjoyed or frozen for a bit of summer late in the year, and shopper Landes and her clan couldn't be happier.
"My husband would literally eat this and nothing else for dinner," Landes says, holding up her bag of ears and laughing. "He would think this is plenty and (eat) four or five ears of it at a time if it didn't upset his stomach at that point."
Copyright 2018 The Lawrence Journal-World. All rights reserved. This material may not be published, broadcast, rewritten or redistributed. We strive to uphold our values for every story published.