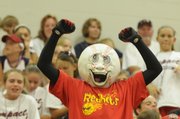 It was a festive scene in the Free State High gym Monday afternoon as the North American Fastpitch Association kicked off its "B" National Championships with opening-ceremony events.
Three teams will represent the Lawrence Phenix in the tournament in the 18-and-under, 14-and-under and 10-and-under divisions. The Lawrence Hummers also will send a team for the 10-and-under division. Play officially begins at 9 a.m. today at the Youth Sports, Inc. fields and the Clinton Lake Softball Complex.
The opening ceremony, though, was all about having fun. Decked in cowboy hats, purple balloons and tinsel, almost 60 teams turned out to introduce their players in style.
"The opening ceremony is always fun because teams get to do cheers and skits and represent where they're coming from," said Maryanne Smith, a member of the Phenix's 14-and-under team.
The 10-and-under Phenix sported custom-made burgundy tie-dye shirts for the event.
"It makes us stand out," Marriah Clayton said. "Not a lot of teams are wearing tie-dye."
Several girls on the 10-and-under team also wore beaded necklaces for a special softball-style performance of the popular song "Crank That" by Soulja Boy.
A marshmallow-eating contest and a Slurpee-chugging competition rounded out the merriment.
The tournament draws teams from Kansas, Missouri, Nebraska, Oklahoma and Texas.
"Nationals are great because during the season, you usually just see the same teams," Smith said. "Here, you get an opportunity to play a lot of different teams."
"It's a lot of fun to bring all these girls and all these families together in one location," said Barry Johnson, head coach of the Phenix's 10-and-under team. "I just want our girls to go out and have fun and do the best they can do."
Most of the players said they were most excited about the chance to make new friends.
"I just want to get to know people from other states," Megan Sumonja, a 10-and-under player, said.
For Randy Fyler, head coach for the 18-and-under Phenix, those friendships are what softball is all about.
"That's the stuff you're going to remember," he said. "It's more important than winning or losing any game."
Copyright 2017 The Lawrence Journal-World. All rights reserved. This material may not be published, broadcast, rewritten or redistributed. We strive to uphold our values for every story published.