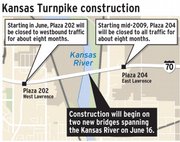 Tests will start early for Kansas University students arriving in August for the fall semester.
Not only will they be tested but so will the parents who bring them, the Kansas Turnpike Authority and the university.
That's when the effect of a monthslong public information campaign about turnpike construction will become known.
For drivers, passing the test means knowing that you can't travel west from the west Lawrence turnpike plaza; and if you are coming from the east, you can't exit at west Lawrence.
"The biggest issue will be for folks coming to KU for the first time or who come only a few times a year," KU spokesman Jack Martin said.
Another major test will be Aug. 30 when KU sports fans flock to Lawrence for the first football game.
"Do we expect bottlenecks? Of course, but that's not anything new for a large sports event," KTA chief executive Mike Johnston said.
Just where those bottlenecks occur will depend on many factors, such as which direction most of the visiting team's fans are coming from. Lawrence police work with the Kansas Highway Patrol, Douglas County Sheriff's Office and the KU Public Safety Department on game day traffic issues.
"Typically there are meetings as we get closer to the season," Lawrence police spokesman Sgt. Paul Fellers said. "We're primarily focused on getting traffic away from the stadium and out to the arterial roads (after the game)."
Getting the word out
KTA and KU officials began meeting and planning last year to deal with traffic issues that will develop while a $130 million turnpike construction effort progresses.
The two bridges over the Kansas River between the east and west Lawrence interchanges are being torn down and rebuilt. In June, westbound access to and from west Lawrence was closed. It will remain closed for at least six months because of reconstruction. Next year, the east Lawrence terminal will be completely closed and rebuilt.
In May, KTA sent representatives to KU's "select-a-seat" event, where football season ticket buyers picked out their stadium seats. KTA answered questions and provided pamphlets about the turnpike project.
"We have sent information ourselves to season ticket holders and donors, and we will do it again when we send the tickets out in August, so there has been a concerted and cooperative effort between Kansas Athletics and KTA to let people know what is going on," said Jim Marchiony, KU associate athletic director.
Information also is being passed on to people who might attend other campus events, such as programs at the Lied Center and the Dole Institute of Politics, Martin said.
"I think they (KTA) have done an outstanding job working with us and making sure as much as possible people know ahead of time about construction," he said.
KU has maps and other information on its Web site at www.ku.edu/visit/maps.shtml.
The turnpike project is not expected to cause delays in responding to emergencies in and around Lawrence, law enforcement spokesmen said. Extra turnpike troopers will be working in the area during game days, Johnston said.
Copyright 2018 The Lawrence Journal-World. All rights reserved. This material may not be published, broadcast, rewritten or redistributed. We strive to uphold our values for every story published.