On the street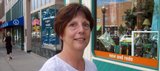 No. But if I've gone to the trouble to go somewhere to meet them, I'm probably already inclined to vote for them.
Douglas County residents can register to vote and meet candidates for state and local office from 7 a.m. to 11 a.m. Saturday at the southeast corner of the Lawrence Farmers' Market near Eighth and New Hampshire streets.
It will be the first in a series of candidate events planned by the Voter Education Coalition, a nonpartisan partnership of 17 local groups with the goal of promoting voter participation. The Lawrence Douglas County League of Women Voters will be available to register voters at the booth.
The other events will be Aug. 9, Sept. 13 and Oct. 11.
The coalition also will play host to a public forum question-and-answer session for county commission candidates at 7 p.m. July 29 at the Dole Institute of Politics.
Copyright 2018 The Lawrence Journal-World. All rights reserved. This material may not be published, broadcast, rewritten or redistributed. We strive to uphold our values for every story published.