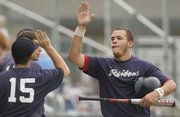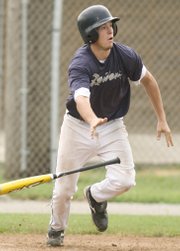 The Lawrence Raiders Legion baseball squad was beginning to forget what winning felt like - along with what it was like to play at home.
Having lost four games at the Bartlesville (Okla.) Tournament and earning just one victory in the last seven games, the Raiders took out their frustration by sweeping a doubleheader against Emporia Legion Post 5 on Tuesday at Ice Field.
"For a while, it was hard for us," said Ben Wilson after the Raiders won, 13-3, in four innings, then took the second game, 11-4. "We went through some ups and downs, but we came back today and showed a lot of improvement."
The night was especially on the upswing for Wilson.
The Raiders' designated hitter went a combined 5-for-6 with seven runs batted in, including two two-run home runs in Game 2.
"He's had a little bit of a slump the past couple of games," Joe Kornbrust said of Wilson. "He hadn't been hitting any home runs. Him getting those signals that he's going to be back out of his slump."
Wilson's first home run - over the green monster in straight away center - gave Lawrence its first lead of the game and sparked a four-run fourth inning after Emporia had gone up 3-2 in the top half of the inning.
In his very next at bat, Wilson went long again to plate Kornbrust for the second time and give the Raiders an 8-3 cushion.
"It wouldn't have been a two-run home run if somebody wouldn't have got on in front of me," Wilson said. "So it was a good job of my teammate getting on base and putting pressure on the pitcher."
Lawrence also received a boost from Tom Schuh in the fourth inning.
After starting pitcher Lance Lamborn loaded the bases, Schuh came in relief to prevent the damage from getting any worse. He allowed one runner to score on an infield single but followed up by striking out the next batter.
Schuh went the final three innings, giving up just one unearned run and striking out three more batters to pick up the win.
"Tommy is as a good a pitcher as we've got," Raiders coach Shaun Edmondson said. "He does an excellent job. He comes in, pitches with great tempo. Guys love playing behind him because they know they're going to get action. He picked a runner off, stopped that rally and just does a lot of things well for us."
While most of Lawrence's offense in Game 2 was produced by Wilson and Kornbrust, the run support in the first game came from top-to-bottom in the lineup.
Lead-off batter Matthew Abel went two-for-three with two runs and three stolen bases. Jake Green and Clint Pinnick joined Wilson and Kornbrust in knocking in two runners each.
"Their lefty (Nick Riggs) was decent, but I think our kids did a nice job of just getting on base," Edmondson said of his club, which collected 12 hits in just three innings. "Any time we're able to get on base, we score a lot of runs by stealing bases. We stole quite a few bases, moved runners when we needed to and just executed our offensive philosophy pretty well tonight."
Lawrence starting pitcher Travis Spurling picked up the win in Game 1. Spurling allowed three earned runs on five hits and struck out four while walking just one batter.
The Raiders return to Ice Field today with a doubleheader against the Topeka Capitals starting at 6 p.m.
Copyright 2018 The Lawrence Journal-World. All rights reserved. This material may not be published, broadcast, rewritten or redistributed. We strive to uphold our values for every story published.