Photo Gallery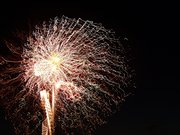 Fourth of July 2008 Reader Photos
Even though fireworks are illegal within the Lawrence city limits, that didn't stop some residents from shooting them off.
On July 4th alone, Lawrence police said the department received 85 calls regarding fireworks.
From early Friday morning to 9 p.m. there were 34 calls.
From 9 p.m. to midnight there were 51 complaints.
The street with the most fireworks complaints was Tennessee Street with five calls.
Copyright 2018 The Lawrence Journal-World. All rights reserved. This material may not be published, broadcast, rewritten or redistributed. We strive to uphold our values for every story published.