Photo Gallery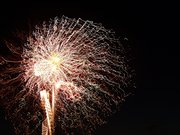 Fourth of July 2008 Reader Photos
The surroundings may have been different this year, but the Lawrence Jaycees are happy with the result of their Fourth of July fireworks show at Sesquicentennial Point.
"We had a little traffic issue right at the beginning and at the end when everybody was leaving," said Gary Saathoff, the president of the Jaycees, "but it didn't take long to clear out, and everybody I talked to in the park enjoyed themselves and had a good time."
Saathoff estimates that about 1,200 cars were present and about 4,000 people watched the fireworks at the new venue near Clinton Lake. And as the first year in a new location, it wasn't perfect.
"I don't know if it's going to happen next year, but we would like to have some music and a live band," Saathoff said. "There was an issue with we didn't have very many vendors."
With gates opening at 8 p.m., some fireworks enthusiasts were ready and waiting beforehand. "We had some cars lining up before the gate opened, clear out onto the dam : and that caused some issues," Saathoff said. "Other than that, I can't really think of anything that was really an issue that caused big problems."
The fireworks had been shot off near the Kansas River in past years and, for some, the event lost a bit of tradition with the move out west.
Dan Hughes, owner of Sunflower Outdoor and Bike Shop and a board member for Downtown Lawrence Inc., said his family used to watch the show, but the different venue changed that.
"It just seemed like too far to get those kids out there and get them back," he said. "We ended up just hanging around the house and doing what we normally do but without the grand finale of the Jaycees' fireworks."
Even though his store was closed for the holiday, Hughes said it seemed like something was missing this Independence Day.
"It seemed like there was less activity going on," he said. "People weren't keyed to go down and watch them near the river."
Saathoff said that safety was one reason for the move.
"We had to do what's safe and what's going to keep the public safe," he said. "It just kept getting (more crowded): it wasn't safe to have it at the park."
Saathoff said he is meeting later in the week with the U.S. Army Corps of Engineers, Lawrence city leaders and the Lawrence police department to talk about any issues or problems with the new location.
"We will certainly address them, and hopefully it will be a permanent site," he said. "Hopefully we'll have an even bigger crowd next year."
Copyright 2018 The Lawrence Journal-World. All rights reserved. This material may not be published, broadcast, rewritten or redistributed. We strive to uphold our values for every story published.