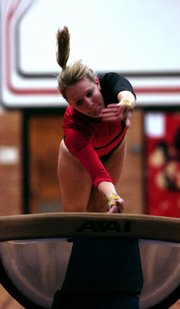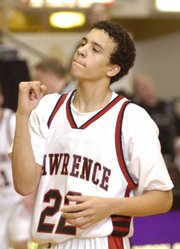 In terms of what they did and how it was perceived, Dorian Green and Mallory West could not have been more opposite.
Green, a junior standout for the Lawrence High basketball and baseball teams, carried the weight of the world on his shoulders as a point guard and starting pitcher.
West, a 2008 LHS graduate, competed only with - and often against - herself.
Green was well-known throughout the community for leading the Lions to the state championship game in basketball and for helping the baseball team reach the state semis.
West, who won the all-around state gymnastics title and finished third at state in diving, rode the wave of anonymity with a bubbly smile and little resentment.
For all their differences, which are not limited to athletics - Green stands a long and lean 6-foot-2-and-counting, West is a petite blonde barely taller than the balance beams she competed on - the two LHS athletes had one incredibly important "it factor" going for them this year: Each delivered in the clutch.
For that, along with the numerous accolades and achievements they collected throughout the 2007-08 school year, Green and West earned the Journal-World's Male and Female Athlete of the Year honors.
Both athletes showed a knack for saving their best for the biggest moments, and both were humbled by the recent honor.
"This is amazing," West said. "I think it has already sunk in. All you accomplish throughout the year takes so much work and so much time, and it just makes you feel more special knowing that people in the community recognized that."
With his senior year still ahead of him, Green said winning the award was surreal, largely because his time has not arrived completely yet.
"It might feel a little different for me because I have another year," he said. "But it's a great accomplishment, one I'm real proud of, and one I might use as motivation for next year."
For Green, the drive to succeed came from those around him and the high standards he set for himself.
Green said his father taught him the importance of a strong mind early in his career, and Green has heeded those words of wisdom throughout his two seasons.
"Being mentally tough, that's the most important thing," Green said.
West's motivation came from within. After injuring an ankle before her junior season, one of the most decorated gymnasts in LHS history spent nearly two years focused on the injury's impact. She sat out most of her junior season yet still managed to take sixth at state. She entered her senior year determined to bounce back.
"It was really hard after I had reconstructive ankle surgery," West said. "And I thought about it a lot because I just wanted to come back so bad. That's what made winning state so awesome; I had to work so much harder than I ever had, and because of that it meant so much more."
In addition to winning her third individual title of her four-year career, West also placed third at the state swimming and diving meet. West said the two sports complement each other well, and she credits each for helping her achieve success in the other.
Unlike her gymnastics career, which began at age 4 when she talked her parents into signing her up for after months of watching her older sister's classes every day, West's diving career came out of nowhere. One day, while lounging at the pool after gymnastics practice, West was coerced by the lifeguards on duty to use her gymnastics skills on the diving board.
Turns out they worked.
"The air awareness and the twists and the flips, that's all very similar," West said. "The timing was a tough adjustment but I did it because I could and it was fun. Gymnastics is my first love, but diving is also a lot of fun."
Throw in West's third sport - cheerleading - and you're staring at an athlete who uses elements of all three of her sports to enhance the others. No wonder she succeeded at such a high level.
West's run to the state gymnastics title paved the way for Green to deliver, as well.
Four months after West added another state title to LHS's storied history, Green led the LHS basketball team to the state championship game and a runner-up trophy. Two months after that he pitched the Lions into the state baseball playoffs and was on the mound the day LHS lost to eventual 6A champion Blue Valley at state.
That's two sports, two trips to a state tournament, and, unfortunately, two finales that brought tears.
"We don't have that state championship yet," Green said. "That's what's killing me."
According to LHS basketball coach Chris Davis, Green's team-first focus is sincere. Many consider Green the best basketball player - if not athlete - in Lawrence, but not once has the slick senior-to-be tried to go Kobe Bryant on the court.
"No matter what level he's been at, and I've been watching him since sixth grade, he's just wanted to play and wanted to win," Davis said. "It's never about him, it's about us. He has a genuine love for the team and that really shines through."
Still, any time Davis or LHS baseball coach Brad Stoll needed Green to elevate his game, he happily obliged. Take the first round of the state hoops tournament in March, when Green scored a career-high 32 points, on 11-of-19 shooting to lead the eighth-seeded Lions past top-seeded Manhattan High.
"When our season was on the line, he stepped up and delivered," Davis said. "He knows where to be, he thinks so well and he's just such a natural athlete. We use the word smooth, he's just so natural in everything he does."
Then there's the regional title baseball game against Washburn Rural, where Green threw a complete game in a 9-1victory.
Two huge stages, two solid efforts. For Green, neither felt like anything more than another game, another enjoyable competition.
"Obviously, it feels good to play well and to do things like that," Green said. "But most of the time I don't even realize what I'm doing, I'm just playing. Just trying to get the job done."
Green and West did more than get the job done this season. While exceeding expectations in their chosen sports, they also delivered in the classroom and the community. That, said LHS athletic director Ron Commons, was an equally important part of what made both of them great.
"When you talk about who you want to bring home to mom and dad, these two kids are it," Commons said. "Both do a great job as athletes and in the classroom. They're just class people. They wear the red and black colors very well."
Copyright 2017 The Lawrence Journal-World. All rights reserved. This material may not be published, broadcast, rewritten or redistributed. We strive to uphold our values for every story published.