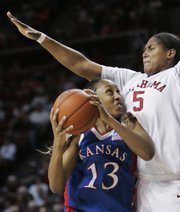 Norman, Okla. — Oklahoma coach Sherri Coale chalked up the latest outing in a baffling stretch of basketball to a simple case of growing pains.
Nyeshia Stevenson scored 15 points, Courtney Paris extended her double-double streak to 79 games and the 11th-ranked Sooners routed Kansas University's women's basketball team, 67-51 on Wednesday night, but it was a 25 in the turnover column that jumped off the stat sheet.
"It's just a continuing progression," Coale said. "We're just so young. You get a lead and feel that cushion and it's really hard to teach yourself to play at the same pace regardless of what's going on. I thought we did that at times and then we didn't at times."
Oklahoma could afford to be sloppy against the Jayhawks (12-8, 1-6 Big 12), who are tied for last place in the Big 12 with Missouri. The Sooners (14-4, 4-2) led by 13 at halftime despite committing 17 turnovers and coasted through the second half without improving much.
Danielle McCray scored 13 points to lead Kansas, which matched Oklahoma in the turnover column and lost to the Sooners for the 10th straight time. Krysten Boogaard added 11 points, and Chakeitha Weldon scored 10 off the bench.
A 13-1 run early in the second half put the game away, with Jenna Plumley's three-pointer extending the Sooners' lead to 50-27. Oklahoma's advantage eventually expanded to as much as 26 points before Kansas started whittling away late.
"It seems like we're in this thing where it's feast or famine," Coale said. "We're either going to not turn it over a lot, we're going to make all our free throws and not make threes at all or we'll make threes and we'll turn it over a lot."
The Sooners went 5-for-14 from three-point range, a modest 36 percent but still an improvement following a 4-for-30 stretch over their previous three games. In their last game against Georgia, Oklahoma went without a three-pointer for the second time this season. Before those two shutouts, it had been four years since Oklahoma failed to make a three-pointer in a game.
In exchange, Oklahoma matched its season-high in turnovers - and everyone was to blame. Nine of the 10 Sooners players committed at least one turnover, with point guard Danielle Robinson leading the way with nine.
Copyright 2018 The Associated Press. All rights reserved. This material may not be published, broadcast, rewritten or redistributed. We strive to uphold our values for every story published.