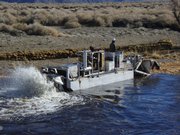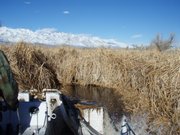 Noxious species sprouting in the bed of a California river diverted nearly a century ago are proving to be no match for a plant-eating device devised by a former Lawrence city commissioner.
Known as "The Terminator," the machine designed by Dave Penny of De Soto-based Masters Dredging Co. recently finished tearing out and chewing up cattails and other plants that had been blocking progress on a $24 million river-restoration project northeast of Los Angeles.
Without the Kansas-born buoyant weed whacker, the free flow of the Lower Owens River might not have resumed, and the wildlife now residing there - birds, fish and other animals - might never have returned.
And the clearing work cost less than $150,000, the "project demonstration" charge that Penny accepted to get his technology in the field and noticed by people who need it.
"It's a very specialized business," said Penny, president and CEO of Masters Dredging. "The jobs are very spectacular, but it's not like we're mass-producing these things."
The thing formally is known as the Aquaplant Shredder: a steel, flat-bottom boat powered by a 300-horsepower Caterpillar engine that drives two front cutters designed to grind through the most dense vegetation Mother Nature can dream up.
In California during December and through Jan. 20, it was cattails and troublesome tules, which collectively formed vegetative barriers to recreation, wildlife and other pursuits in the area some 250 miles from the thirsty Los Angeles metro area.
At the request of the Los Angeles Department of Water and Power, Masters Dredging brought in a Terminator and two operators - Justin Brown and Francis Thoennes - to shred a path through about 7.5 miles of river in an effort to preserve and encourage water flow.
It proved to be no small task, considering that Los Angeles has been diverting water from the Owens Valley since early in the 20th century and only recently had agreed to allow more water back into the river following a lawsuit brought by a local group and the Sierra Club.
Struggles over water in the valley are nothing new - they even were dramatized in the 1974 film "Chinatown," starring Jack Nicholson - and Penny and his employees were happy to have their equipment and expertise dropped into a project that is considered part of an environmental solution.
"It is high-profile," Penny said. "We get the tough ones."
But the "terrifying machine" he originally created to grind up invasive plants on Lake Victoria in Africa isn't guaranteed all that much work. In fact, he expects officials behind the Los Angeles project will purchase a new machine, to be built and designed by Masters Dredging.
Penny isn't sure what the new unit will cost, but Brown - one of the operators to pilot the existing shredder through the dense vegetation - figured it could run anywhere from $260,000 to $500,000.
"It's not a developed section of the market," Brown said.
Copyright 2018 The Lawrence Journal-World. All rights reserved. This material may not be published, broadcast, rewritten or redistributed. We strive to uphold our values for every story published.