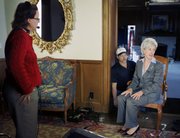 -->
Topeka — Gov. Kathleen Sebelius urged President Bush on Monday to work with her fellow Democrats on economic and foreign policy issues so that he will see "real results" during his final year in office.
Giving her party's response to the Republican president's final State of the Union address, Sebelius said: "So we ask you, Mr. President, will you join us? It's time to get to work."
Bush's speech promoted goals backed by the GOP, but he began with an appeal to bipartisanship himself, praising a recent agreement on an economic stimulus package. Sebelius acknowledged the agreement is encouraging.
"But you and I know that a temporary fix is only the first step toward meeting our challenges and solving our problems," she said. "If Washington can work, quickly, together on a short-term fix for families caught in the financial squeeze, then we can work together to transform America."
Democratic leaders have been impressed with Sebelius since she began serving as governor in 2003 in her Republican-leaning state, and House Speaker Nancy Pelosi called her one of the party's brightest stars Monday.
"Obviously, the Democratic Party wants to advertise itself as something more than a coastal party and show that there are Democrats in places like Kansas," said Bruce Oppenheimer, a Vanderbilt University political scientist. "You don't always want to round up the usual suspects."
But Republican Party leaders portrayed her as a liberal whose record doesn't match the Democrats' positive descriptions. They chastised her for by claiming to speak for working families after being photographed by Vogue magazine in an "extravagant" Oscar de la Renta dress.
GOP Chairman Kris Kobach called her remarks "calculated," an attempt by Democratic leaders to make the party seem nonpartisan.
But another Kansas Republican, Sen. Sam Brownback, said he appreciated the spirit of Sebelius' remarks calling for people to work together: "I think that's what the American public is saying and I hope that's what they're going to see, particularly on the stimulus package."
Bipartisan spirit
Sebelius and Sen. Pat Roberts, a Kansas Republican, mentioned Greensburg, the small southwest Kansas town nearly destroyed by a tornado in May. Its city manager, Steve Hewitt, sat with the first lady, as did another Kansan, former Sen. Bob Dole.
Roberts described the rebuilding of Greensburg as an example of how policymakers can cooperate. He said while Bush and Sebelius show their parties have different priorities, "It is clear to me that Kansans want us to work together to get something done on behalf of the American people."
"Kansans are tired of the politics of exhaustion and will expect their leaders to keep politics to a minimum and work for progress," Roberts said.
During her remarks, Sebelius spoke of "a new American majority."
"The American people aren't afraid to face difficult choices. But we have no more patience for divisive politics," she said. "We are tired of leaders who rather than asking what we can do for our country, ask nothing of us at all."
Sebelius cited the war in Iraq as an example of where bipartisanship is necessary. She said Americans, like Democrats in Congress, are ready for a new course.
"If more Republicans in Congress stand with us this year, we won't have to wait for a new president to restore America's role in the world, and fight a more effective war on terror," she said.
Sebelius is the daughter of former Ohio Gov. John Gilligan, a Democrat who held that office in 1971-75; they are the only father-daughter governors in U.S. history. But in her remarks, she noted that her husband, Gary, is the son of a Republican congressman from Kansas.
"There is a chance Mr. President, in the next 357 days, to get real results, and give the American people renewed optimism that their challenges are the top priority," she said, referring to the amount of time Bush has left in office.
Rep. Dennis Moore, a Democrat who represents the Kansas City area in the state's 3rd District, said Sebelius showed in her speech that she "knows how to reach across the partisan divide and make government work."
Republican response
Kansas Republicans have repeatedly questioned Sebelius' leadership. Kobach noted that she has proposed tax increases in the past and this year endorsed higher tobacco taxes to finance health care initiatives. He described her as a liberal who is "more interested in pandering to special interests on the East and West coasts than serving the people of Kansas."
The RNC noted the strong support she has received in her campaigns from trial lawyers and labor organizations, suggesting she supported those groups over workers and businesses. It called her "Kathleen: the Tax and Spend Machine."
Sebelius won re-election with 58 percent of the vote in 2006, in a state where registered Democrats are less than 27 percent of the voters. Also, Bush carried Kansas by wide margins in 2000 and 2004, and no Democratic presidential nominee has prevailed there since 1964.
But Kobach said: "Being able to win votes from Republicans is a different thing entirely than actually governing in a bipartisan manner."
Kobach called the governor's delivery "stiff." He said Democratic leaders gave her a big opportunity and, "I think she squandered it."
"She's got a poker face. We saw it during the entire speech," he said. "She didn't come across as eloquent, energetic or excited about what she was saying."
Copyright 2018 The Associated Press. All rights reserved. This material may not be published, broadcast, rewritten or redistributed. We strive to uphold our values for every story published.