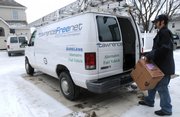 Editor's note: The Lawrence Journal-World is owned by The World Company, which also owns Sunflower Broadband. Sunflower Broadband and Lawrence Freenet are competitors in the Lawrence Internet service provider market.
The Lawrence City Commission is being asked to co-sign a $4.9 million loan for Lawrence Freenet to finance that company's plans to expand its wireless Internet service in the city.
Freenet leaders say in exchange for the unusual financial arrangement, they'll guarantee that every child in the city under age 18 will have free access to wireless Internet service. They're also agreeing to provide the city with enough installed underground cable to synchronize the traffic signals on major city streets, along with providing city government with free Internet access.
The majority of city commissioners, though, said the proposed deal creates a host of legal and ethical questions about what role city government should play in private enterprise. Some commissioners also are asking questions about whether the not-for-profit Freenet has adequately explained its relationship to a for-profit company created by Freenet's founder.
"They have great, positive, ambitious goals, but unless staff can give me some very good reason, I am not at all comfortable co-signing a loan," Mayor Sue Hack said.
Commissioners are being asked at their Tuesday evening meeting to hear the proposal and determine whether they want to reject the plan or ask staff to investigate it further.
The deal
Joshua Montgomery, a founding member of Freenet and company spokesman, said Freenet has plans to install 25 miles of underground cable, expanding the company's ability to provide Internet service from about 60 percent of the city to about 95 percent.
Montgomery said Freenet and its partners can get private financing to complete the expansion without the city co-signing the loan. But if the city agreed to co-sign, the interest rate would drop from 12.5 percent for 60 months to 5.5 percent for 120 months. That would reduce the loan's monthly payment by about $57,000.
In exchange for that help, Freenet would start "Freenet Kids," which would provide free, filtered, wireless Internet access to children via a user name and password wherever Freenet has a signal.
Freenet also is proposing that: the city would have use of about $1.9 million worth of fiber-optic cable that could be used to synchronize traffic signals; Freenet would provide improved access to the city's public library Web site; and the company would give the city Internet accounts for city employees.
Freenet would pay for the loan through sales of its Internet service. Montgomery said he is counting on individuals to buy the service and not use the filtered Internet access that may be available to the children. He said there isn't a method planned to stop adults from using their children's free accounts, and that the company needs to grow its paid subscriber base from about 1,100 today to 6,000 in two years to meet its financial plans.
Montgomery said the proposition is a low-risk deal for city leaders because the city would be the fourth guarantors on the note. Freenet, its for-profit service provider and Montgomery all would be guarantors ahead of the city.
"It is very similar to what would happen if you asked your dad to co-sign a loan," Montgomery said.
Split commission
A majority of city commissioners, though, aren't so sure. Commissioners Mike Amyx, Rob Chestnut and Hack all have expressed reticence.
All have posed questions of whether the city has the legal authority to back a private loan, but they've also expressed concern about whether it is the proper role for the city.
"I'm somewhat skeptical about even pursuing this at all because it opens the door for us to get involved in some private enterprise matters that we perhaps shouldn't be involved in," Chestnut said. "It brings up the question of whether we are providing something that, in fairness, we should be providing to other people, too."
In 2005, the previous City Commission allowed Freenet to place its wireless equipment on city water towers. The company pays $10 a year to locate on city water towers, a significant discount from the $1,000 to $2,000 a month that the city charges wireless telephone providers to locate on the tower.
But commissioners previously said they were fine with that subsidy because Freenet was different than for-profit Internet providers such as Sunflower Broadband or AT&T.;
When Freenet first approached the City Commission, it was using a public television business model, where no one was charged for the service, but Freenet would rely on donations and pledge drives to sustain itself.
That model did not last long. Adam Mansfield, president of Freenet, said it became apparent that the business would need to generate money to pay expenses.
"That initial effort basically was a bunch of people getting together working with off-the-shelf radio equipment," Mansfield said. "It basically was some nerdy folks trying to figure out if we can make this work ourselves."
Now, the company sells service for $19.98 a month, which is at or above the rates charged by for-profit service providers in the city. The company commits to use 10 percent of its revenue to provide free service to qualifying low-income residents. According to the last quarterly report filed with the city in October, the company had 1,144 paying subscribers and 90 individuals who were receiving free service.
Freenet's proposal has drawn opposition from Sunflower Broadband. Patrick Knorr, The World Company's chief operating officer, said Sunflower has been providing community service to Lawrence long before Freenet was established. And he said the company has been doing so without a public subsidy.
"Asking the community to pay for us to serve the community, I think that would be outrageous," Knorr said. "I find it outrageous that any competitor is asking for that."
Knorr said Sunflower provides discounted Internet service to 341 nonprofit organizations as part of a program started in 1995. The company also provides more than 50 "hotspot" locations where people can access wireless Internet for free and without a Sunflower account. That program began in 2001.
In December, Sunflower started its own program to provide free Internet service to qualifying low-income individuals. The company has signed up 32 people in less than two months, Knorr said.
Knorr said he would urge the city to reject Freenet's proposal, in part, because Freenet's past business assumptions have been wrong and there's no reason to think the most recent projections are any more accurate.
"If this was sustainable, sound business, they wouldn't need to be this creative with their financing," Knorr said.
The fact that Freenet is now competing with traditional for-profit companies also is giving some city commissioners pause.
"It certainly has expanded from what I was comfortable with in the beginning," Mayor Hack said.
City Commissioners Mike Dever and Boog Highberger said they are comfortable with the city's arrangement, and want to look at the $4.9 million credit proposal.
Dever said the amount of fiber optic cable that city government would gain use of could have a significant value to the city. He said the city likely would need to spend millions of dollars to put in cable for a program to coordinate traffic signals.
"You have to look at what we're being asked to do versus what we could gain," Dever said. "I'm interested in pursuing extraordinary pursuits to have an extraordinary community."
Copyright 2018 The Lawrence Journal-World. All rights reserved. This material may not be published, broadcast, rewritten or redistributed. We strive to uphold our values for every story published.