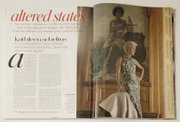 Gov. Sebelius and the State of theUnion response
Topeka — Gov. Kathleen Sebelius has impressed Democrats nationally by winning two terms in a Republican state, and party leaders are giving her a plum speaking role before a prime-time television audience.
Top congressional leaders picked her to give the Democrats' response tonight to President Bush's last State of the Union address.
Presidential candidates are seeking her endorsement. She's coming off a year as chairwoman of the Democratic Governors Association, a group former President Bill Clinton once led. Previously praised by Time and Newsweek as an effective governor, Sebelius is profiled in the February issue of Vogue, which even photographed her in an Oscar de la Renta dress.
"She is very much on the minds of national Democrats," said Peter Fenn, a Democratic media consultant in Washington. "The main thing people are looking for is somebody who can get things done. It's a first-rate opportunity."
She made Democrats' lists of potential vice presidential running mates for John Kerry in 2004, and while there's less of the same talk this year, she's a possible Cabinet appointee. She's also considered a strong potential U.S. Senate candidate in 2010, though she has publicly played down any interest.
Fellow Democrats often note that when she began her tenure as governor in 2003 the state faced one of its worst financial crises. Yet, they note, she managed government without imposing a general tax increase. Spending on public schools has increased dramatically since she took office, and the economy generally has been sound.
House Speaker Nancy Pelosi said Sebelius' record and her being "an effective voice" for fellow Democratic governors led to the invitation. Pelosi, a fellow graduate of Trinity College in Washington, called the governor, an aide said.
"In many ways, Governor Sebelius embodies the leadership style and record of accomplishment on display from a host of Democratic leaders in the heartland and across the country," Pelosi said in an e-mail response about the choice.
Sebelius said: "This is about good things happening in Kansas, and the attention is positive and good for the state."
Republicans have reacted with a little pride over a Kansan getting national attention but some frustration over Sebelius' continued reputation in national political circles.
They have long argued that the economy isn't as strong as Sebelius portrays it and that job growth is largely a result of an increase in government employment. If the state hasn't imposed tax increases, Sebelius has proposed them - and endorsed higher tobacco taxes to pay for health care initiatives this year. They have accused her of being absent on big issues, only to claim credit for legislation later.
And some Republicans doubt her speech will create an impression.
"Who gave the response last time?" asked Kansas Sen. Pat Roberts. (The answer is Virginia Sen. Jim Webb.)
But whatever prominent Republicans say about her, registered GOP voters have supported her in significant numbers.
She won re-election in 2006 with nearly 58 percent of the vote, in a state where less than 27 percent of the voters are registered Democrats. President Bush carried Kansas twice by large margins, and no Democratic presidential nominee has won its electoral votes since 1964.
"She indeed has been remarkably successful drawing independents and disaffected Republican support," said David Rohde, a Duke University political scientist. "From that point of view, she's an attractive face to put on the party."
Peter Hart, a veteran Democratic pollster who worked for the 1968 Senate campaign of Sebelius' father, said choosing Sebelius suggests Democrats aren't looking for a partisan, "red meat" response. A speech from someone from outside the partisan disputes in Washington may be more convincing, he said.
Sebelius automatically is a delegate to the Democratic National Convention in late August in Denver, but she has not endorsed a candidate. She had delayed a decision to appoint a new attorney general and to prepare her own State of the State address earlier this month. Her staff has said that Pelosi suggested - and Sebelius agreed upon - not backing a candidate until after her speech.
Both Fenn and Hart think the Democratic presidential race's narrowing to Hillary Rodham Clinton and Barack Obama removes Sebelius as a serious contender for the ticket. Even so, she's highly regarded, they said.
"Would any administration like to have someone like Governor Sebelius in a key position? The answer is: of course," Hart said.
Fenn acknowledged that how much Sebelius boosts her national profile depends on how well she does with her response, to be broadcast from the governor's residence. A softening economy and open races in both parties have heightened voter interest.
"It's not your ordinary State of the Union response," Fenn said. "The spotlight is not going to just be on the president, but it's going to be on the party that controls the House and the Senate, for the first time in a while."
Copyright 2018 The Associated Press. All rights reserved. This material may not be published, broadcast, rewritten or redistributed. We strive to uphold our values for every story published.