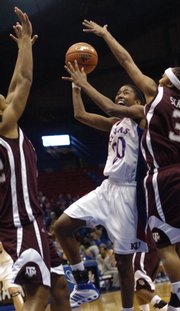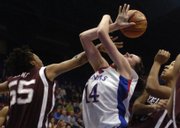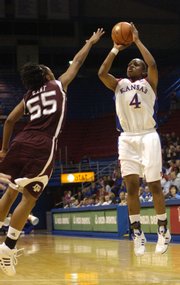 As many 21s as came up for Texas A&M;, the Aggies should have spent the rest of the night at the blackjack table.
A&M;'s women's basketball team forced 21 turnovers and grabbed 21 offensive rebounds in dispatching Kansas University, 58-51, on Saturday night in Allen Fieldhouse.
"We made poor passing decisions, and that's disappointing," KU coach Bonnie Henrickson said. "That wasn't very good guard play by us."
Perhaps more disappointing, though, were the Aggies' 21 offensive boards, including nine from Danielle Gant, a 5-foot-11 junior.
"She's one of the best offensive rebounders in the league," Henrickson said, "and Gant made us look awfully soft. At halftime, we talked about making a commitment to boxing out, and we didn't have anybody step up."
Kansas actually wasn't too bad in the first half, shooting 50 percent (13 of 26) and giving the ball away just six times. But the Jayhawks' lead was just the minimum (30-29), mainly because of the Aggies' work on the offensive glass.
Shortly after the break, A&M; coach Gary Blair switched strategy, opting for a smaller lineup and a fullcourt press that proved disruptive by 1) initiating KU turnovers and 2) forcing the Jayhawks to hurry their halfcourt offense when they broke it.
"The difference was when we went to small ball," Blair said, "and our press kicked in."
Kansas coughed the ball up 15 times in the last 20 minutes and shot just 35 percent (six of 17). During one nine-minute stretch, the Jayhawks settled for just four free throws. They took only four shots during that fateful span, but turned it over seven times.
Henrickson didn't gloss over the second-half swoon, placing the blame directly on the shoulders of three players.
"We have some sophomores who need to stand up and play," a subdued Henrickson said in her postgame media session.
Henrickson used three sophomores Saturday night - Sade Morris, Danielle McCray and LaChelda Jacobs. That trio was guilty of 13 of the 21 turnovers.
"We're not doing our job," said Morris, who was charged with a third of the giveaways, "and we've got to fix it."
On a more positive note, the three sophs accounted for 31 of the Jayhawks' 51 points and six of KU's paltry 10 assists. McCray, who played all but one minute, led KU with 11 points and seven boards.
McCray was also one of four Jayhawks who logged 32 or more minutes as Henrickson used a basic rotation of just six players. With sophomore Kelly Kohn sidelined because of an ankle sprain for the fifth straight game, Henrickson gave Chakeitha Weldon a look, but the freshman guard committed two fouls and turned it over twice in just two minutes of duty.
With so few players logging so many minutes, could fatigue have been a factor during that second-half skid?
"Gant played 36 minutes, and she wasn't tired," Henrickson said. "So I won't use that as an excuse."
Gant finished with 14 points, 12 boards, six steals and three blocked shots. In fact, she had two more steals than the entire KU team.
In the preseason, Big 12 Conference coaches picked A&M; to capture the championship, but the Aggies had lost four of their five league games and were grasping for flotation devices.
"We were playing for our lives," Blair said. "If we'd have lost this one and the next one (Missouri on Saturday), we'd have stitched WNIT across our jerseys."
Meanwhile, Kansas continued its tailspin. The Jayhawks are 1-5 in league games and must go to No. 11-ranked Oklahoma on Wednesday night.
Copyright 2018 The Lawrence Journal-World. All rights reserved. This material may not be published, broadcast, rewritten or redistributed. We strive to uphold our values for every story published.