Photo Gallery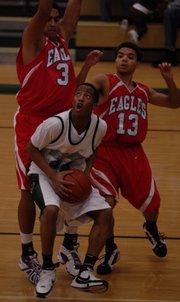 Free State boys vs. Olathe North
The Free State High boys basketball squad made big shot after big shot in its game against Olathe North at home on Saturday.
But the biggest basket came from Olathe North's big men to pick up a 59-57 victory over Free State in overtime.
"I don't think we did a very good job on their bigs," FSHS forward Weston Wiebe said. "They're good players, but we just didn't play very good defense on them."
FSHS got game-tying three-pointers from Jake Miller, with a minute-and-a-half to go in regulation and Wiebe with a minute remaining in overtime.
However, the Eagles' Jordyn Chamberlin had a put-back for the game-winning bucket with one second left.
"We do a great job, I thought, of defending the final possession, but then we give up another offensive rebound for the game-winning basket," Free State coach Chuck Law said. "That was kind of the story of the game: not being physical enough with their size and allowing them to pound the glass and get easy baskets."
Olathe North's starters down low - Chamberlin and Jermaine Bransford - combined for 37 points and pulled down 18 of the Eagles' 36 rebounds.
The Firebirds had a chance to win in regulation after the Eagles turned the ball over with 29 seconds remaining. Senior Kris Wilson drove baseline and put up a shot that bounced off the rim.
Though Wilson had the hot hand in the fourth, scoring five of his 11 points in the final quarter, Law said Miller showed him a lot by making the three-pointer to force overtime.
"I thought Jake hit some big shots for us, and he's a guy that's played about eight minutes of varsity basketball all year and then steps into the starting role tonight," said Law of Miller, who finished with 10 points. "I thought he played really well."
Wiebe and Wilson kept the Firebirds alive in the second half when the Eagles came out of the half on a 7-0 run and had as much as a six-point lead late in the game. The Free State duo accounted for 23 of the team's final 32 points.
"We just talked about playing hard and playing our game after halftime," Wiebe said. "We did a good job of coming back when we got down, but just need to finish it off next time."
Besides being beaten on the boards, the Firebirds hurt themselves from the charity stripe, going 7-of-17 for the game and 1-of-7 in the final two quarters and overtime.
"That will do it to you in a two-point game," Law said. "Free-throw shooting is a mental thing - just like a three-foot putt (in golf)."
Copyright 2017 The Lawrence Journal-World. All rights reserved. This material may not be published, broadcast, rewritten or redistributed. We strive to uphold our values for every story published.