Photo Gallery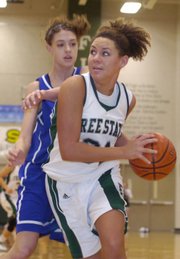 FSHS girls vs. Washburn Rural
Don't be surprised if the Free State High girls basketball team burns the film from this weekend's Firebird Winter Classic.
After falling to Washburn Rural, 37-34, Saturday afternoon in the third-place game, the Firebirds left their home gym disappointed and disgruntled.
"We hate this taste in our mouth," senior guard Sarah Craft, who led the team with nine points, said.
Sophomore center Ashli Hill - eight points, eight boards and three blocks - had a laundry list of things that led to the FSHS (5-7) loss: "Dribbled too much, didn't pass enough, didn't swing the ball, didn't finish."
All of those things, and more, made coach Bryan Duncan the most peeved Firebird of them all.
"This is as bad a mood as I've been in as a coach in a long time," Duncan said.
While it would be easy to explain that the fourth-place finish at the classic came because of a strong field, Duncan refused to be content with being competitive.
"We're past that," he said. "Today, what was going to make us better was winning. We made it very clear to our players: Winning might not be everything, but winning makes things a lot better. We went 1-2, and I don't care who we played, for our standards that's not good enough.
"We made too many mistakes to win."
The biggest blunder might have come in the final seconds when the Firebirds were down, 36-34. WRHS senior Laura Caby missed a free throw with 12.1 left in the fourth quarter and instead of grabbing the miss, the ball was knocked out of bounds by FSHS.
WRHS (9-3) forward LaSharra Riley, a 6-foot-2 junior who was plagued with foul trouble and scored only two points, hit her first free throw with 9.8 to go, but missed the second. Craft grabbed the rebound, dribbled down the floor and missed a three just before the buzzer.
Duncan said one of the few positives he will take from the weekend is the emergence and leadership of junior Taylor Manning, who had four points, eight rebounds and three blocks against WRHS.
"Taylor Manning really stepped up and was unbelievable as a leader, defender and scorer, and was our glue," Duncan said, adding that she did other things that don't show up on a stat sheet. "She kind of kept everybody together, kept our composure for us."
Next up, the Firebirds (5-7) will play host to Savannah at 6 p.m. Wednesday.
Copyright 2018 The Lawrence Journal-World. All rights reserved. This material may not be published, broadcast, rewritten or redistributed. We strive to uphold our values for every story published.