-->
Photo Gallery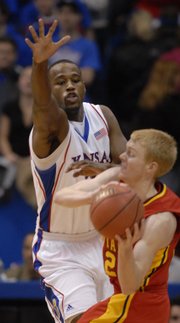 KU vs. ISU
Individuals seek physical balance through weight-lifting and aerobic exercise. They seek emotional balance through methods as diverse as yoga and psychological counseling. Nutritionists preach the importance of balanced meals. Rare is the individual who can maintain balance. Why? Because it's extremely difficult.
Multiply the degree of difficulty by five to appreciate a basketball team's quest for balance. It's the best path to success for a basketball team of five men trying to work as one, yet one so seldom traveled.
Nobody does it better than a Kansas University basketball team that took care of Iowa State, 83-59, Wednesday night in front of legendary miler Jim Ryun and 16,299 other loud voices in Allen Fieldhouse.
Balanced scoring. Inside-outside parity. Efficient in transition and in the halfcourt. Just as effective a team without the ball as with it.
It's this team's balance, more than anything, that makes it so upset-proof and has it roaring with a 19-0 record.
On this night, all five starters, led by the vastly improved Darnell Jackson, scored in double figures. For the season, seven players are averaging as many as 7.2 points, and nobody averages more than 13.4 points. An argument could be made that the low-scoring man of the seven, Russell Robinson, is the team's most important player.
An even better statistical indicator of balance can be found in comparing the shooting efficiency inside the three-point semi-circle to outside it. Every time a Kansas player attempts a three-point shot, the average return is 1.17 points. For two-point attempts, the average return is 1.14 points.
If all funambulists had balance as sound as this basketball team's, they could cut down the nets during practice, knowing they wouldn't be needed.
The absence of egomania on the second-ranked Jayhawks is a credit to the players, most of whom were the stars of their high school teams, stroked incessantly during the recruiting process and are afforded celebrity status by fellow students and adults alike.
"We do a good job of sharing the ball, and when you're unselfish like that, good things happen," said Robinson, who averages 4.6 assists per game. Backcourt-mate Mario Chalmers averages 4.8 assists.
How do they maintain the unselfishness and keep the egos in check?
"First of all, you start with unselfish individuals," Robinson said. "It gets contagious. You see one guy get an assist, you want to get an assist too. It's just helping each other out. We all love each other and want to see each other do well."
Iowa State's approach was to try to limit KU from winning the game on the perimeter, so the scoring focus shifted inside. Jackson led KU with 21 points. Darrell Arthur was next with 16 points.
With Nebraska visiting the Fieldhouse on Saturday, only Kansas could beat itself by assuming a victory.
"No danger of complacency at all," Robinson assured. "Coach (Bill) Self does a great job of re-focusing us every day. Even if we do have a little lapse in practice, coach jumps on us right away. We all make conscious efforts that we don't get complacent and happy with where we're at. ... We took tough losses in the past. We don't want to take any now."
Copyright 2017 The Lawrence Journal-World. All rights reserved. This material may not be published, broadcast, rewritten or redistributed. We strive to uphold our values for every story published.