-->
Photo Gallery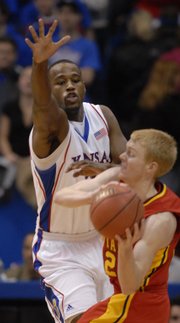 KU vs. ISU
Sherron Collins, who missed six games after undergoing surgery to repair a stress fracture in his left foot, likely would be missing some time right now due to a right ankle sprain ... if he weren't so tough.
"He turned his ankle pretty bad (Friday before Missouri game). He's showed guts, I think, by being out there. A lot of athletes it'd be a one- or two-week deal. He won't miss any time," coach Bill Self said of the Chicago sophomore who scored two points off 1-of-8 shooting with two assists and two steals in 25 minutes in Wednesday's 83-59 rout of Iowa State.
Collins, who hurt his ankle "contesting a shot and coming down on it," said he has lost some quickness with one of his wheels wobbly.
"It's pretty bad, but it's all right," Collins said of the right ankle. "It's hurt me a little bit on cuts. Once you start dribbling, you kind of forget about it. The pain gets you if you think about it."
Collins said he hopes his nagging injuries become a thing of the past.
"It's a little frustrating right now," he said. "It's a little tough to handle. It's all right, though. I think I was doing better after the surgery. This is another little setback. It's the hand I've been dealt. I'll deal with it.
"I want to be 100 percent, but I'm fine."
He wasn't the only Jayhawk battling a minor injury. Darrell Arthur strained a calf muscle at practice Tuesday.
"He tweaked a calf muscle. It was really bothering him today at shootaround," Self said of Arthur, who had 16 points off 8-of-13 shooting with just one rebound in 19 minutes.
"Bill (Cowgill, trainer) said he could play, but it would bother him. Watching him tonight, he didn't run like he's capable of running. He didn't trust it early in the game."
Arthur had an airball on a hook, stepped on the baseline for a turnover and committed a foul two minutes into the game, earning him some bench time. Upon returning, he played much better and finished the first half with eight points in 10 minutes.
"I got upset, subbed for him. He came back and was great," Self said.
Asked if the injury caused the 6-9 Arthur to grab just one board, Self cracked: "I hope it did, because he got one more than I did, which isn't very good for a big guy with his athletic ability."
Arthur said the early bench time helped inspire him.
"I started out slow. I had to change it," Arthur said. "I think I did a good job of changing it around. Coach (Danny) Manning gave me some good points over there. When I came back in, I was more aggressive."
Copyright 2018 The Lawrence Journal-World. All rights reserved. This material may not be published, broadcast, rewritten or redistributed. We strive to uphold our values for every story published.