-->
Photo Gallery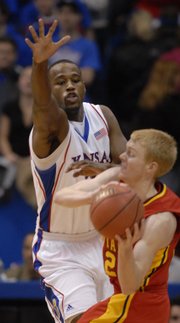 KU vs. ISU
It's so cruel.
Iowa State's men's basketball team arrived at Allen Fieldhouse on Wednesday and pretty much knew it only had two options once the game with Kansas University tipped off.
Option one: Drink this poison and hope it doesn't kill you.
Option two: Drink that poison and hope it doesn't kill you.
Disclaimer: Both of them probably are going to kill you.
Does it really matter which one ISU coach Greg McDermott went with? For the record, the Cyclones chose to defend the Jayhawks' guards tightly, allowing the KU big men to go wild in an 83-59 Kansas victory.
"We made the decision to play some of their post guys one-on-one to try to control some of their dribble penetration - try to get to their three-point shooters," McDermott said. "To their credit, Arthur and Jackson really made us pay for it."
As in Darrell Arthur (16 points) and Darnell Jackson (21 points, 11 rebounds), who constantly finished looks that slowly allowed Kansas to pull away.
Had Iowa State sagged to keep Jackson and Arthur in check, it's likely that Mario Chalmers, Brandon Rush and whoever else was lurking on the perimeter would've hit enough long-range bombs to make the score about what it ended up being anyway.
And don't get McDermott started on KU's defense.
This is what McDermott and 18 other coaches have had to deal with since November when playing Kansas. It's no wonder the Jayhawks are 19-0.
"You're going to have to be a pretty complete basketball team (to beat KU)," McDermott said. "I have a lot of respect for their offense, but I probably have more respect for their defense."
What's easy to forget from Wednesday's mismatch is that Iowa State (12-7 overall, 2-2 Big 12 play) has a strong chance to finish in the top half of the conference standings. Starting a lineup with four guys over 6-foot-6 on Wednesday, the Cyclones kept the margin at 10 at halftime, 42-32, despite shooting just 40 percent from the field.
Several individuals had solid games, too, including Wesley Johnson (21 points), Craig Brackins (13 points, eight rebounds) and Rahshon Clark (two thunderous dunks).
But it's established by now that Kansas is just at a different level this season, and the Cyclones don't hesitate to admit it.
Johnson, for one, was asked if he foresees Kansas losing anytime soon. A smirk broke into a grin and then into a chuckle.
"No," he said when he regained his composure.
So a follow-up was asked: Will Kansas be undefeated when it goes to Ames, Iowa, on Feb. 27 to play the Cyclones a second time?
Johnson, competitive as he is, didn't laugh this time.
"I hope they're still undefeated," Johnson said. "They probably will be."
As long as the poison stays potent.
Copyright 2018 The Lawrence Journal-World. All rights reserved. This material may not be published, broadcast, rewritten or redistributed. We strive to uphold our values for every story published.