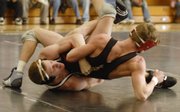 So much for hometown hospitality - not that much would be expected when cross-town rivals Lawrence High and Free State hook up in any sport. But the Lions wrestling team politely pounded their rivals, 65-9, when the Firebirds ventured across town for a Tuesday night dual at LHS.
The Lions won 11 of 13 matches against the Firebirds, scoring seven pins in the process.
"It's always nice to beat your rival, especially in your own house," LHS coach Patrick Naughton said. "Free State's down a little bit, but they've got a lot of young guys who are tough and they work hard for coach (Paul) Lappin over there."
The LHS wrestlers were slightly more excited about the lopsided victory.
"It's a big rivalry between LHS and Free State and beating them that bad feels good," Lions junior Jake Pfannenstiel said. "We knew we would get some free points just because they've got a bunch of open (weight classes), but I don't know that we thought it would be that bad."
FSHS had to forfeit three matches - and 18 points - to LHS because it didn't have wrestlers in the 103-, 112- and 160-pound weight classes. The Lions won eight more matches thanks to victories by Pfannenstiel, Chris Lane, Levi Flohrschutz, Dom Rieske, Dustin Walthall, Ryan Waller, Jordan Kircher and Quentin Williams.
One of the more physical confrontations came in the 145-pound match between Rieske and Jaron Brynes. The two battled back and forth before both had to be treated for bloody noses.
"I'd never had a bloody nose during a match before," Rieske said.
Pfannenstiel didn't have blood to worry about, but he did have everybody in the gym yelling his name when he wrestled FSHS freshman Jake Brown, who shares a first name with his LHS counterpart. With everybody in the gym rooting on "Jake," it could have been confusing for Pfannenstiel if he didn't have his head gear on.
"I don't really hear (the fans) too much when I'm wrestling," he said.
The hot night for the Lions concluded with a somewhat surprising win for Williams, who was a last-minute replacement for usual heavyweights Chris Berg and Elijah Costa, who were out with injuries. After trailing FSHS junior Pat Coffey in the first period, the 285-pound Williams took him down and scored a pin in the second.
"For him to get a big win was pretty special for us," Naughton said.
FSHS junior Jack Caywood was one of two Firebirds to have his hand raised in victory. He and junior Julian Kuzmaul were the only Firebirds to score victories.
"It's important to at least score some points, not get shutout because that (would be) just embarrassing," Caywood said after edging LHS junior Blake Greenfield, 10-5, in one of the hardest-fought matches of the evening. "It was good to have a good day for myself and Julian, but as a team we've just got to get better."
Naughton was impressed with Caywood's performance.
"It was a really good match-up and Jack's a real good, solid wrestler, and strong for his weight class," Naughton said of the Firebirds' 140-pounder. "Jack was able to fight him off and kind of frustrated Blake a little bit."
In turn, Caywood praised Greenfield for providing such tough competition and said he only won by keeping himself out of bad spots.
"I felt I wrestled to my strengths and made him wrestle my style," he said.
Despite the impressive home win, LHS won't celebrate it for long.
"We've got to make weight again Friday morning and then we have a tournament Friday night and Saturday morning," Rieske said.
LHS will travel to Rossville Friday and Atchison Saturday. FSHS will also hit the road Friday when it heads to the Garden City Invitational.
Copyright 2018 The Lawrence Journal-World. All rights reserved. This material may not be published, broadcast, rewritten or redistributed. We strive to uphold our values for every story published.