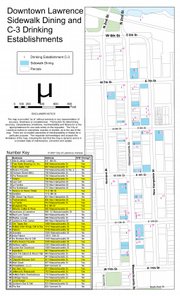 To downtown bar owners, it sure looks like an open door.
City commissioners in November agreed to allow the downtown drinking establishment The Bourgeois Pig, 6 E. Ninth St., to keep its sidewalk dining license, even though the coffee shop/bar doesn't meet the city's requirement that says businesses with sidewalk seating areas make at least 70 percent of their sales from food.
Now, bar owners are saying what's good for the Pig is good for their pubs.
Downtown bar owners at tonight's City Commission meeting will be asking commissioners to allow bars to have the same sort of sidewalk seating areas that restaurants currently enjoy.
"The people are already out there on the sidewalk smoking their cigarettes," said Jerry Neverve, owner of the Red Lyon Tavern, 944 Mass., who has been lobbying for the sidewalk bar areas since the city enacted an indoor smoking ban more than three years ago. "It would be much better if we could lease the space from the city and control it a little better."
City commissioners, though, haven't exactly taken to the idea like a cool margarita on a warm day. Commissioners have entertained the idea of expanding sidewalk seating areas since 2005. But the recently discovered Bourgeois Pig situation - where city staff members in the 1990s mistakenly gave the Pig a permit even though it did not qualify for one - has put more pressure on the commission to consider the idea again.
Mayor Sue Hack said she might be willing to drop the food sales requirement for sidewalk areas if the city were to add a few new regulatory steps. She likes the idea Madison, Wis. - home to the University of Wisconsin - has adopted that requires all sidewalk licenses to go through a special advisory board that includes members of the hospitality industry and law enforcement.
"I'm very intrigued by what Madison, Wisconsin, does," Hack said. "I think that sounds like it could be a good compromise."
Madison also has a staff member who does periodic checks of the sidewalk drinking areas throughout the year. Hack said she didn't want to add a new city position, but did want to consider ways to ensure that the areas were working the way the city envisioned.
City Commissioner Rob Chestnut said he first wants to hear from Lawrence Police Department leaders on what they believe could happen if the city began allowing bars to have the sidewalk areas. He said having open-air areas that primarily are for drinking rather than dining could create the potential for negative interactions between bar patrons and passers-by.
"I don't know exactly what the right formula is, but I would be looking for something that still has some restrictions," Chestnut said. "First and foremost needs to be the safety issue."
He said that may mean regulations that would force the sidewalk dining areas to close at 11 p.m., would require that patrons be seated at a table, and that glass bottles be banned in the outdoor area.
Neverve said he was confident that bars could operate sidewalk areas that would not create problems. And, he said if a problem were to arise, the city always would have the ability to revoke the business' sidewalk license.
"But I don't think it will be a problem," Neverve said. "We have expectations of behavior here. If they don't meet them, they are no longer welcome, and it would be the same thing on the sidewalk area."
Downtown merchants seemed split on the idea.
Jane Pennington, director of Downtown Lawrence Inc., didn't think the organization's members had a clear consensus, other than they expected any business with a sidewalk area to conduct the operations in a responsible manner.
Bob Schumm, who owns Buffalo Bob's Smokehouse, 719 Mass., and introduced the sidewalk dining concept to the city when he owned Mass. Street Deli, 941 Mass., said there would be some risk in changing the system.
"It has worked well the way it is," Schumm said. "And I guess what I would say is that bar crowds can be different than restaurant crowds."
Commissioners meet at 6:35 p.m. tonight at City Hall, Sixth and Massachusetts streets.
Copyright 2018 The Lawrence Journal-World. All rights reserved. This material may not be published, broadcast, rewritten or redistributed. We strive to uphold our values for every story published.